How to Make a Unique Motivational Page on Facebook that stands out
 Facebook motivational and inspirational quotes pages have a huge positive impact on Facebook users because they give positive messages every day that brightens someone's day. 
I run two quotes pages on Facebook: Lucky with over 1 million followers and 900k+ likes and Strange with over 30k followers.
This article will cover the topic in detail explaining all the hacks and tips you need to make motivational page that stand out on Facebook.
I'm going to take you step by step on how to create a unique motivational page that stands out in name, Mistakes to avoid, and things to consider while choosing a name, how to increase your page reach, and where to find quotes for your page.
How to create a Facebook motivational page
Step 1: Go to the Facebook menu, click pages, then choose Create Page.
Step 2: Choose a category. Categories for motivational pages are Motivational Speaker, Personal blog, or Writer.
Step 3: Add a website if you have one.
Step 4: Upload your profile and cover page. They are important.
Your new page will be like this:
However, creating the page doesn't make it unique, everyone can create a new page.
To get your new page to the top, you have to put in a lot of work. I'll start first with the page name because it's the second thing people focus on when they see your content.
How to come up with a unique Facebook motivational page name
To come up with a great motivational page name, you need to consider some things. Here are things to consider when choosing the name and mistakes to avoid. 
Avoid these mistakes when choosing the page name:
1. Avoid names like Motivational Quotes or Inspirational Quotes because these names are just like other Facebook Motivational pages and are taken.
2. Avoid using your name then adding Quotes to it like Edward Quotes, Jason Quotes, etc because most of the quotes you are going to post won't be yours and when your followers find that out, they will lose some of the love and admiration they had for your page.
3. Use quotes at the end only when the page post about a specific thing only like Wise Quotes, Stoic Quotes, etc but if you are going to post a mixture of all these quotes, avoid using Quotes at the end.
Also, read: How To Make Motivational Quotes 
Things to consider:
1. Know that the Facebook page name stands for what the page posts about, but it doesn't describe it. The content you posts describe it.
You can use your name or nickname when it stands for something. If you have a personal story or you had an experience, then use your name or the nickname.
Some example of big motivational pages that use user names are:
• Farhan Ali: His Facebook page has 190k+ followers and his account has 170k+ followers. Both have great engagement.
Your followers are fans of your page, but they don't love and admire the page but the contents and the admin posting these contents.
2. Include a focused keyword in the page name if the motivational quotes are focused on a specific thing like relationship, business, or leadership.
Motivational page name ideas
If you still didn't come up with a unique name for your page. Here's a list of motivational page names:
Positive Vibes Quotes
CEO Mindset
Unknown Feelings
Elite Billionaire
Positive Feelings
Hustle Quotes
Hustle Mindset
Hustlers Quotes
Don't Quit Quotes
Grind Mindset
Grindset
Unique Quotes
Millionaire Mindset
Billionaire World
Billionaire Mindset
Future Millionaire
Unique Vibes
Grind Quotes
Positive Attitude Quotes
Different Attitude
Alpha Quotes
Alpha Attitude
Hidden Quotes
Golden Quotes
The Unseen Side
Straight Quotes
Real Quotes
Best Motivational Quotes
Inspirational Vibes
Top Quotes
Great Quotes
Wise Quotes
Positive Vibes Only
Strange World
The Positive Side
World of Quotes
Untold Feelings
Untold Words
Good Talks
Better Feelings
Better Vibes
Better Mindset
The Top Mindset
1% Club Mindset
Motivational Pool
Quotes Pool
Positive Attitude
I know
Quotes World
All the above pages have a unique name that stands out among many motivational pages. These names are new and I'll keep on adding new names.
Name is important, so choose a name that stands out.
Motivational page description Ideas
Describe your Facebook motivational page clearly, what is it about and what it does. But here are some ideas:
You can also choose a quote that describes your page. You can visit the Attitude Quotes category to get the best positive quotes for your motivational page description.
How to make the Facebook algorithm recognize your page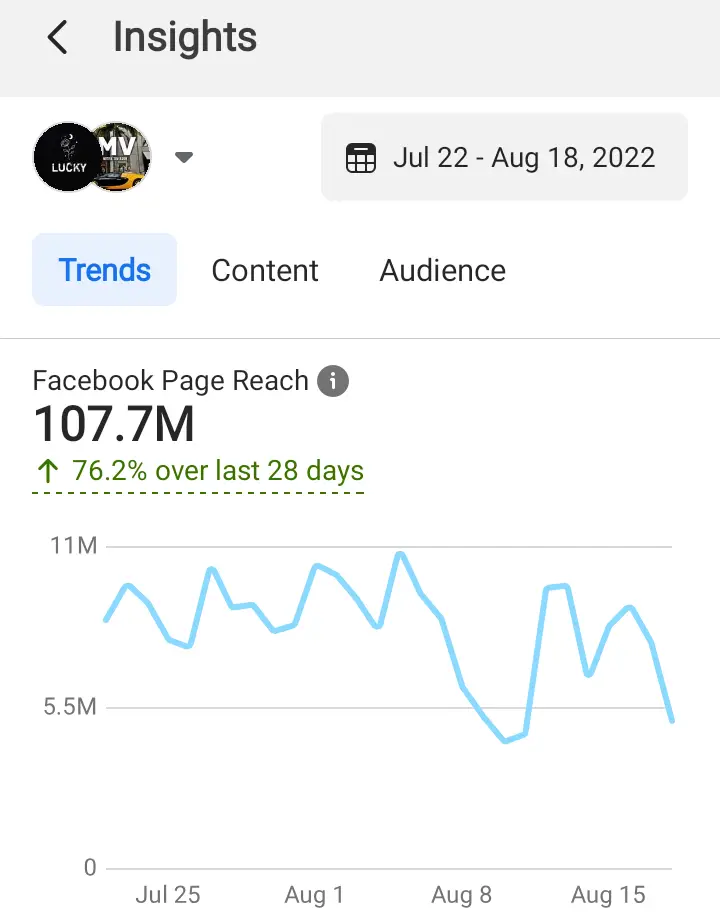 As a small page starting, you have to get some attention and make a presence for your page. Here are the hidden ways to achieve higher visibility for your page:
1. Post 1-3 quotes every day with a constant schedule in the first month. It's nearly impossible to post every day with a constant schedule, but Facebook had that problem solved.
Install Facebook Business Suite (pages manager) app. Through it, you can schedule your post and story for any day that you want, read comments and messages, and track your page insight. This will let the Facebook algorithm recognize your page.
2. Create a Facebook group for your page.
3. Create a hashtag for your page. Example, #motivationalpage.
You need at least 3 to 6 months for your page to start going viral. The first month is important. If you applied all the tips I provided, it will take less time. You can see the change through the page insight.
How to Increase the page reach organically
1. Share your page post with Facebook Motivational group
There are hundreds of Facebook quotes groups with many members. Join the big ones with good engagement and share the post with 10 different groups.
The reach you will expect is 30k-150k reach, which is great.
This is one of the top posts on one of my motivational pages. You can visit it here. This page's followers at this time are 21k. This post reached 115k people because I shared the post to multiple targeted Facebook groups.
2. Post motivational and inspirational videos
Videos are great for the Facebook algorithm because it lets users stay more. Post 7 to 15 videos a month. Some will go viral after 2 or 3 month
the surprising thing about this content is that it starts going viral after 6 months. You have to post and be patient and remember not all the videos will go viral.
3. Comment on big pages post
Comment on big page posts. If your comment is good and meaningful, it will rank the first, making these pages followers visit your page.
4. Post consistently 
The key to a successful page is consistency. You must make a viewer who visits your page, scroll down and admire the quotes you post.
But if they visited it and saw only 2 posts in the last week, they are more likely to leave which will give bad feedback to the algorithm and you don't want that.
If you don't know what the Facebook algorithm is, consider reading this after finishing this article.
5. Use hashtags
Using hashtags is a great way to tell the Facebook algorithm what your post is about. Use 3-10 hashtags on every post, one of the hashtags must be your page name to boost your presence.
Though hashtags are underrated and not used by a lot of pages. Use it to let the algorithm recommend your page earlier.
I added many concentrated hashtags to this post and the result was great. I shared it to Facebook motivational groups and applied all the tips I shared in this blog post.
6. Post unique and new quotes 
Give the Facebook algorithm a reason to push your reach. What most people don't know is the algorithm knows many content and users' reactions to it.
I used a high-quality background image and a rare quote. People engage with new content. The secret to reaching more people on Facebook is creating new high-quality content.
If you post quotes you found on other Facebook pages or in quotes groups, the algorithm won't push the reach organically.
You may be wondering where I get quotes for my page. I have multiple sources.
Where to find rare quotes
Most Facebook quotes pages get their quotes from Instagram and Pinterest. As a new page, don't duplicate the content you find on big Facebook pages.
Here are the top 4 best websites to find rare quotes:
1. Goodreads: The first I'll recommend. Goodreads website is for books but they do provide quotes, well categorized, and with the author's name.
2. Brainyquotes: It has the biggest quote collection since 2001.
3. Quotery
4. Twitter: Most highly successful people like Elon Musk tweet great quotes.
There are thousands of motivational accounts on Twitter. As most celebrities tweet positive quotes that become a trend. When it becomes a trend, you can use the trend to reach more people on Facebook.
To know how your page is doing and how the experts are keeping up, follow the big motivational pages on Facebook.
The top quotes pages to follow
There are hundreds of quotes pages, but I'll recommend these:
Follow these pages and learn how these pages are keeping up their fan base strong.