About the Founder and Admin of Motivated Version and Lucky
Hey, I'm Lucky:⁠-⁠)
I started my journey in the self-improvement niche as a content creator. I'm generally attracted to the concept of coming up with better solutions and ideas for solving problems.
In college, I'm voted as one of the highly motivated students because of my ability to stay motivated and disciplined for a long time without showing any decline in performance.
I love improving myself and giving the best I can in most of my projects. When I started getting recognition as one of the highly motivated and disciplined people; I thought everyone could do it and people were just giving excuses.
It was after 6 months that I realized that I'm better than many people when it comes to motivation, consistency, and discipline. These 3 components are important for achieving big goals and reaching higher success.
The story continues…
Apart from being motivated, I liked debating people. When you have a better idea, it's impossible to stay quiet about it for a long time.
In most of my debates at the university and speeches in public speaking, I realized that I'm great at influencing people. My way of presenting ideas was the most effective.
One of the pages I own reached 107 million people on Facebook over the last 28 days which proves what I just said.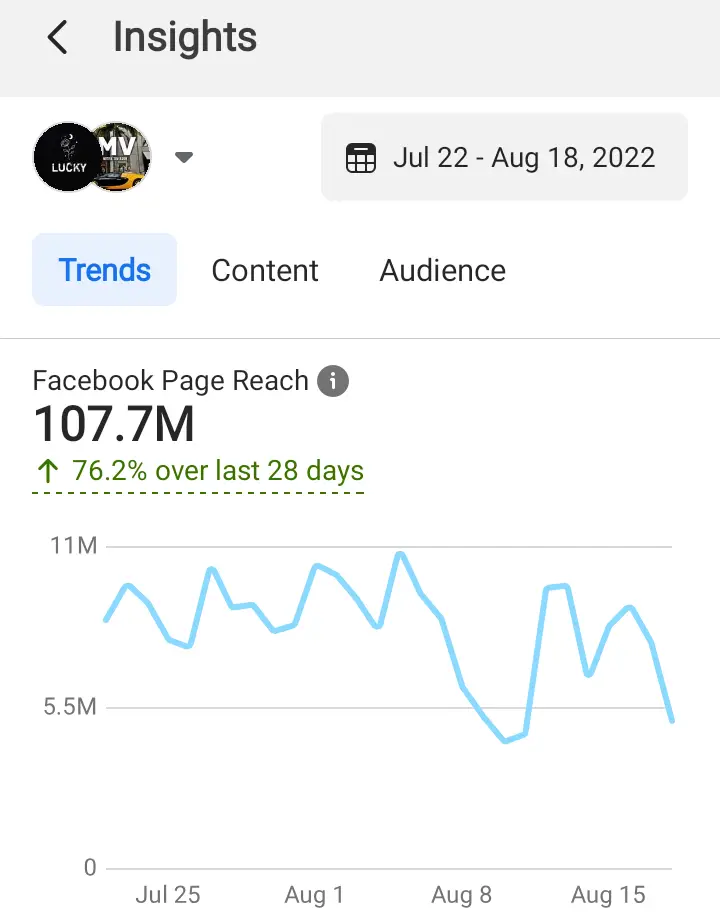 I don't want to sound so braggy, but to influence more than 100 million people online at the age of 19 isn't something to be ignored or labeled as ordinary.
How did Lucky start
I wanted to reach more people and positively influence more people's lives. Impacting people's lives in a unique way is what I'm great at.
I wanted to do something that could impact the lives of people positively. The simplest thing I could start with was posting quotes on Facebook.
I didn't like all types of quotes because some shamed other people instead of understanding them. I created the page with the name "Lucky" to present quotes based on understanding and to help people overcome their tough times.
The Facebook page grew so big and impacted the lives of many Facebook users in a positive way, which fulfilled my dream of impacting people's lives.
On July/30/2022 the page hit 1 million followers.

But quotes only help by giving hope, inspiration, and motivation. That's when Motivated Version starts.
The birth of Motivated Version
In some moments, we need someone to tell us what to do and how to do it. If you've been through something and overcame it, sharing how you overcame that situation will help a person going through the same situation overcome it.
But everyone who has the knowledge and experience can guide others. What makes the post I write stand out?
From all the knowledge I got from reading psychology books and the things I learned from engaging in deep talks with many people. I learned something important regarding what you need to guide others well.
Everyone can guide others, but they guide others based on their perspective in life which is good but doesn't help everyone. In this blog, I focus on my guidance in a way that can help everyone. Researching the topic and adding my own unique touch.
I realized that when working toward a certain goal, we will face both emotional and mental resistance that will try to stop us.
It's by breaking through that resistance that we become proud and confident in ourselves.
Quotes may help in overcoming mental resistance, but when there's an article or a video that explains the situation and how to overcome it. Any resistance won't be a big thread.
Motivated Version Goals
Help people overcome both mental and emotional resistance when chasing their goals.
Learn more about motivation and how to keep and use it.
Give a unique perspective to difficult problems and better solutions.
Staying motivated and being disciplined when chasing a goal is important. Just like you and I have goals, we also want to become the best version of ourselves. We appreciate you taking the time to read about us. Break the resistance and achieve the goal. 
Thank you for reading about us. If you want to reach out to us, you can contact us.