10 Surprisingly Deep Introverted Quotes That Most Introverts Don't Know
Introversion is a golden quality a person can have, but it's always misunderstood.
People misinterpret being introverted as being shy, but that's not true.
Introverts are more concerned with their inner world, which is made up of their thoughts and feelings.
Yeah, introverts are different in their imagination. They enjoy and prefer to spend time alone.
They feel deeply and their thoughts are deep, dark, and amazing.
I admire the thoughts, ideas, words, and advice that introverts give.
It's hard to convince the extroverted world we live in today.
It requires people to show up, talk loudly, and have large circles.
It's great and I encourage people to show up confidently and speak their minds.
But don't lose yourself to gain the world.
Most of the great leaders, scientists, inventors, engineers, philosophers, and psychologists of all time are introverts.
This is not a coincidence. Even most of them quoted great things about lone time (solitude).
You should accept your introverted nature, understand it, and use it.
But what most introverts do is avoid and hate it.
Introverts are great and amazing in their own way as extroverts are too.
Last year, I wrote 10 introvert quotes and it was funny and deep. This time I'm focusing only on deep quotes.
Here are the 10 Surprisingly Deep Introverted Quotes That Most Introverts Don't Know:
1. I am not open to many people, I'm usually quiet and I don't really like attention. So if I like you enough to show you the real me, you must be very special.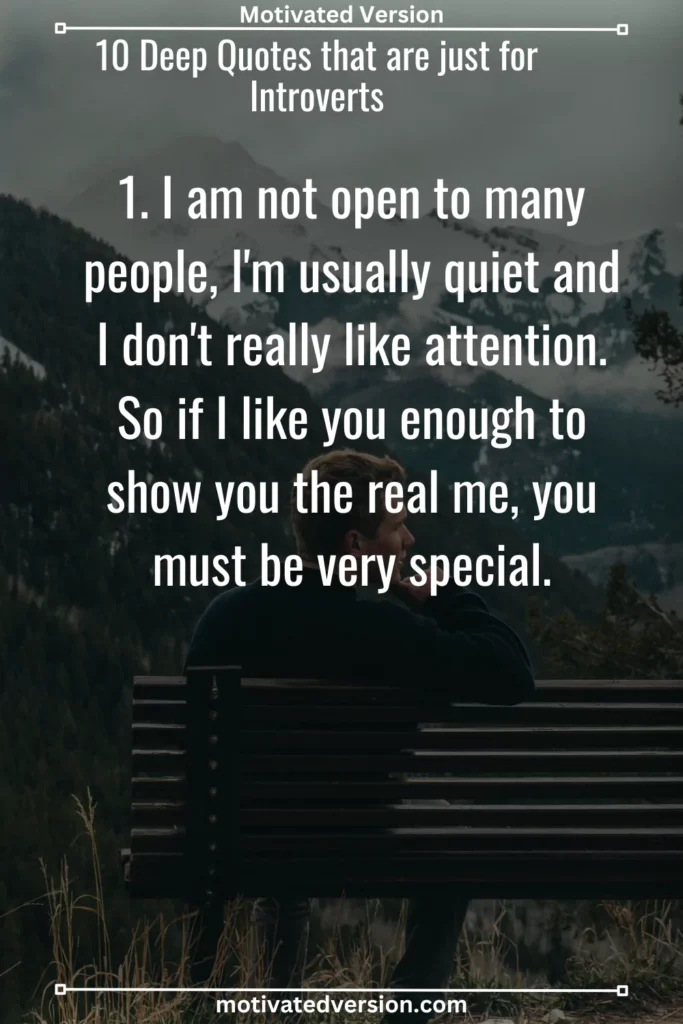 Introverts usually have a small circle of friends. They are people they trust.
If an introvert lets you into their world; you are special to them and they genuinely mean it.
2. Being alone has a power very few can handle.
Sigma males and females are very powerful. To handle things on your own is the ultimate sign of strength.
Some things require help, but that doesn't apply to everything.
3. I'd rather sit alone than sit with fakes and snakes. If you can't be real and loyal, then stay away from me and my table.
Someone once said that the realest people have the smallest circle. Loyal people with good intentions are rare.
But it's better to stay alone than sit with backstabbers. When you count on yourself, you know you can trust yourself.
4. Be so private they can't do anything but assume.
A private life is a happy life. People ruin things they know.
They make false assumptions when they can't figure out anything about your life.
Enjoy your world and protect it, it's yours. People can't ruin things they don't know.
5. No matter what society says, it's okay to be like, "Nah, that ain't for me".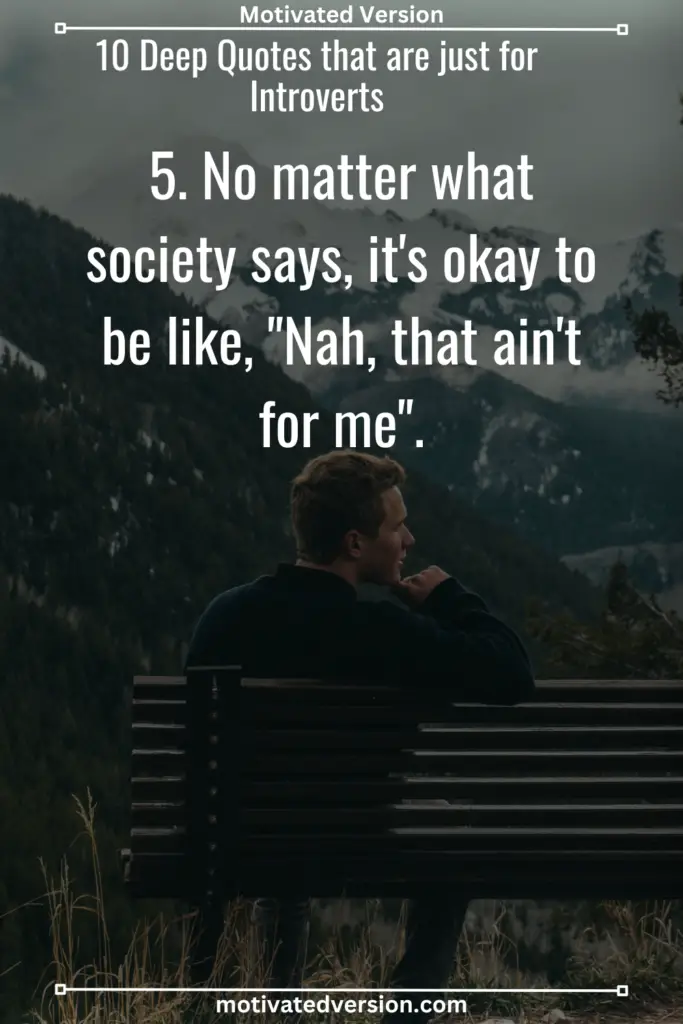 Stay different and true to yourself. It's okay to say no to parties if you enjoy the beauty of silence.
It's okay to cancel plans if you enjoy staying at home. It's okay to say no to anything that doesn't feel right.
What's right is staying true to yourself.
6. People say I act like I don't give a sh*t, but I'm not acting.
Most of us don't love drama and bullsh*t. I love it when people assume that I'm acting.
When in fact I have no interest in joining their drama.
7. Not everyone has access to me because I love peace more than attention.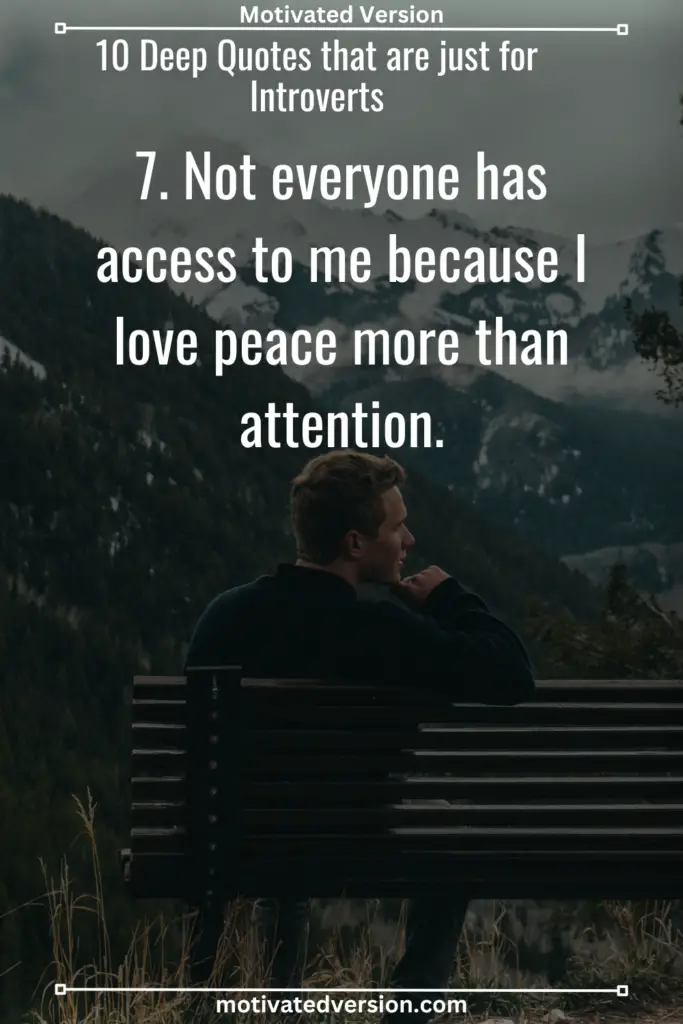 Peace is better than attention. Peace comes from within; attention comes from outside.
Attention is temporary and is controlled by others; your peace can be controlled by you.
8. I fell in love with doing my own thing, minding my business, & not being accessible like that. I love it here.
Falling in love with yourself and the things you do is precious. Not all people get this, but it's amazing.
9. A person who is okay with being alone is a powerful person.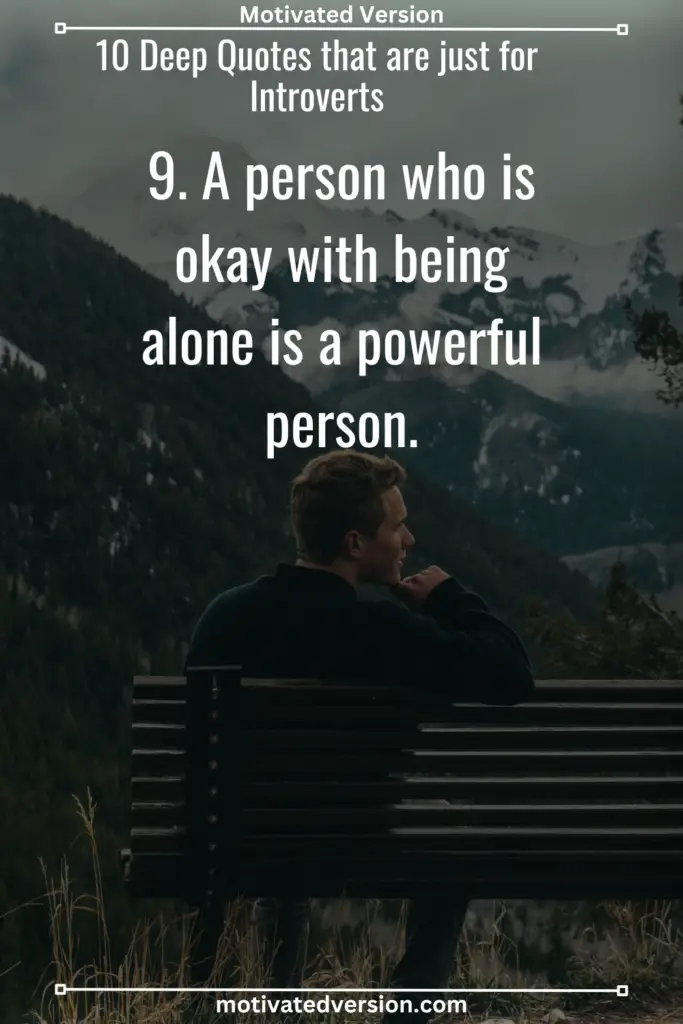 Many people feel lonely when they are alone. They struggle a lot with silence.
When you enjoy your alone time, you turn loneliness into solitude.
10. I keep my personal life quiet, so don't think you know me. You only know what I allow you to know.
Privacy is something we value.