10 Life-Changing Deep Quotes with Rare Life Lessons You Have to Read Before 2024
As the year draws to a close, there's a profound urge that resonates within
those who have journeyed through life's varied landscapes.
It's a desire not for perfection, but for wisdom, growth, and a deeper understanding of the world around us.
These quotes are not mere words;
they are the encapsulated experiences of thinkers and visionaries who've grappled with the complexities of existence.
They resonate with the depths of your own journey,
speaking not to perfection but to the beauty of growth and self-improvement.
As we approach the dawn of 2024, the timing couldn't be more perfect to prepare mentally for the new phase in life.
These rare life lessons are your companions on this quest, offering insight, inspiration, and the promise of a brighter future.
Here are the 10 Life-changing Deep Quotes with Rare Life Lessons you have to read Before 2024:
1. One day the people who didn't believe in you will tell everyone how they met you.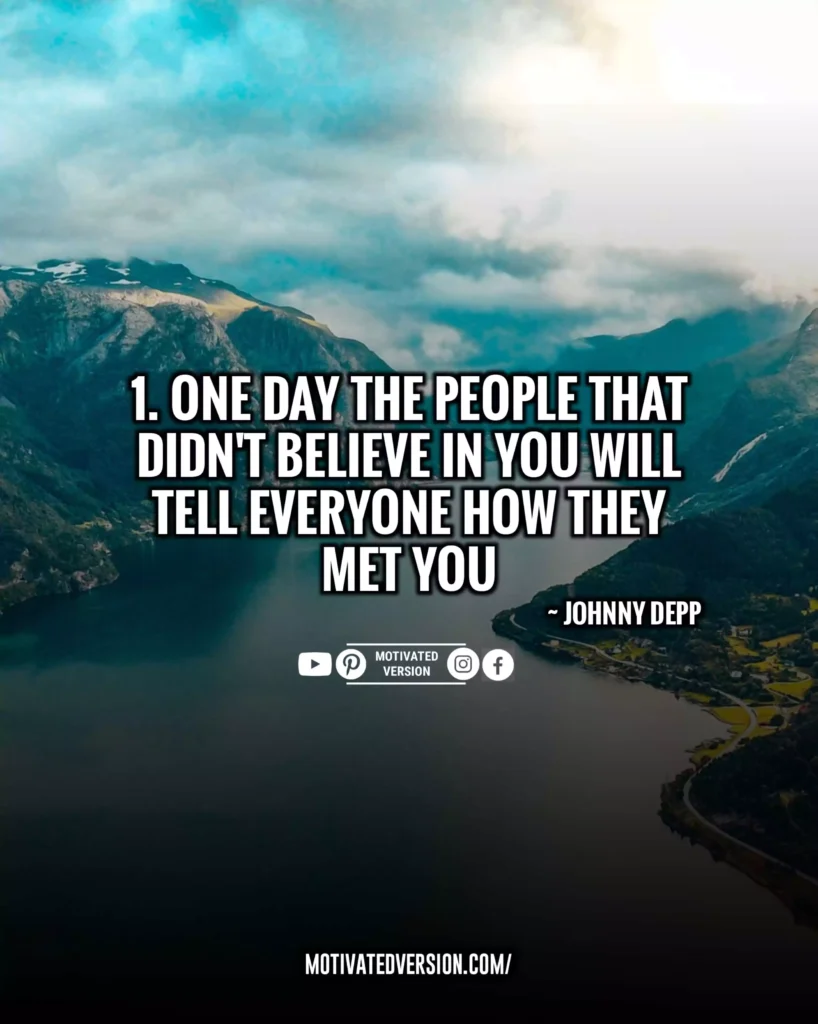 We all know that everyone who dreams big will meet people who won't believe in what he/she says. Remember that it's not others' dreams; it's yours.
We all have different minds and perceptions, as we all admire different things in life.
It's not others' responsibility to believe in your dream and support it.
If you have a friend or partner who believes in you and always pushes you to do your best, you have to thank them.
Otherwise, know that most people won't believe in your dream.
Now believe in yourself and push yourself to the best version of yourself.
2. Life is like riding a bicycle. To keep your balance you must keep moving.
Said by the famous theoretical physicist Albert Einstein.
You have to keep moving no matter how hard things become in life. Pain, struggle, negative emotions, and hard situations are what give the good days meaning.
No matter how dark the night is, there will be sunshine.
Enjoy the good days in your life and keep moving through the bad days. That's the only thing you can do.
Never quit just because life has become hard.
3. If plan A doesn't work, the alphabet has 25 more letters – 204 if you're in Japan.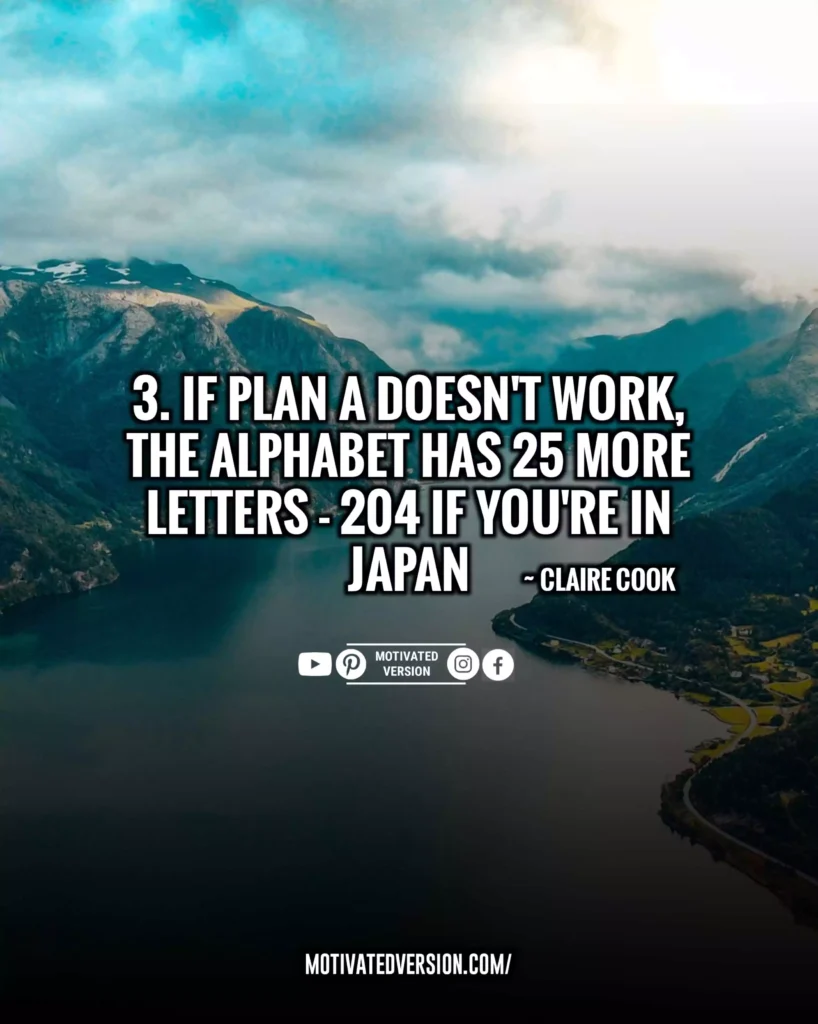 Said by Claire Cook. I admire the optimism in this quote and the hope it gives.
The plan can be changed, but the goal is permanent. If the first plan fails, don't panic.
You can make another plan with the lessons you learned from the first plan.
Always analyze things and know why things didn't go the way you planned.
4. Never give up on something you really want. It's difficult to wait but worse to regret.
The feeling of regret is one of the worst feelings. Keep on going no matter how difficult things become.
It may take longer for you to succeed, but you have to keep going.
Keep on learning, keep on becoming strong, and keep on growing.
Things will always seem to be impossible, but they will become possible if you keep going through the doubtful and hard days.
5. If you get tired, learn to rest, not to quit.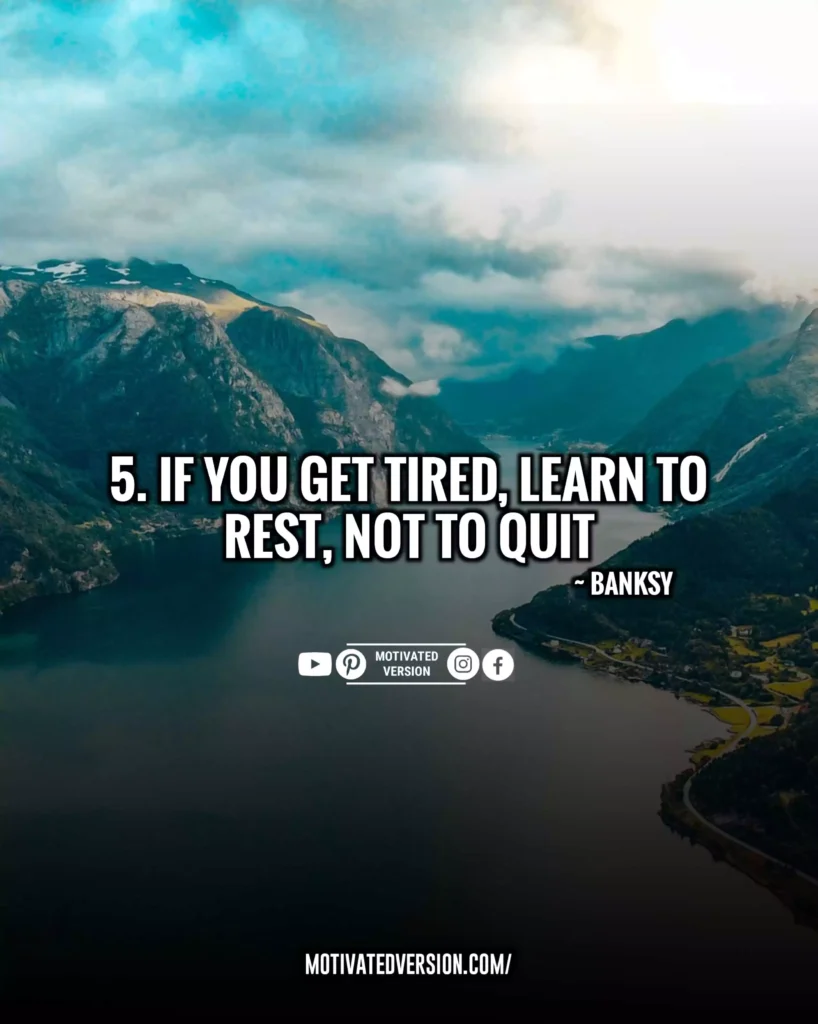 Said by Banksy. We are all trying to become ambitious, achieve many goals, and improve ourselves.
We dive deep into hard work and then run the risk of burnout.
Most of us will choose to quit in times of burnout. But we forget to rest.
There's a difference between resting and quitting.
You recover and get back your energy and vibe when resting and there's nothing wrong with that.
6. One day you will tell your story of how you overcame what you went through and it will be someone else's survival guide.
It's an inspiring and motivating quote at the same time.
We all need hope; we all need an assurance that tomorrow will be better than today.
We all need a person who went through the hard days and overcame them
to tell us that what we are going through will make sense later and that we are not alone.
7. Don't be afraid of being outnumbered. A lion walks alone while the sheep flock together.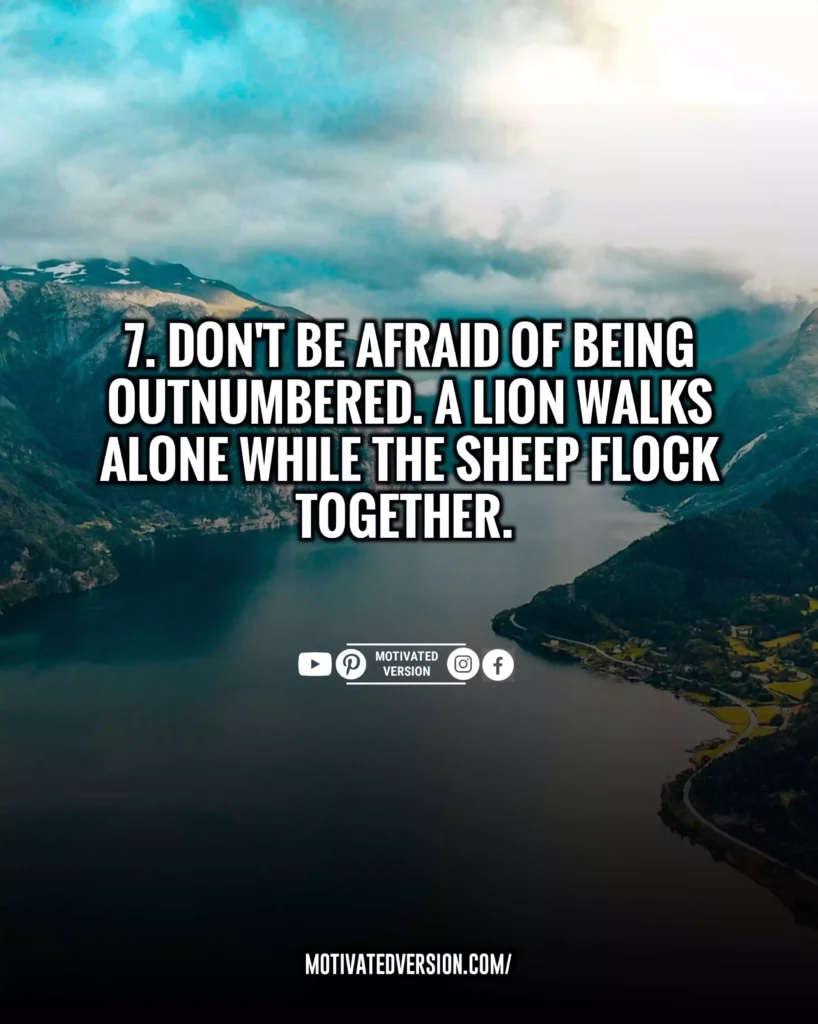 Stay motivated even when you are alone.
Fighting your battles alone shows that you are strong enough to handle all your things alone.
Just because you are alone doesn't mean you are on the wrong way.
Stay motivated, stay confident, and keep going.
8. Every struggle in your life has shaped you into the person you are today. Be thankful for the hard times, they can only make you stronger.
This famous quote is said by Keanu Reeves. Without the hard times, you will never become the person you are.
I know people who had a hard childhood but ended up becoming more successful than those who had a happy childhood.
The struggle you are going through will make you stronger.
Also, read: 10 Wise Quotes with deep life Advice you have to read in 2023
9. Believe in yourself. You are braver than you think, more talented than you know, and capable of more than you imagine.
The world may limit you, but your mind can put many limits on you more than others can do.
Believe in yourself and pursue your dream. If you can dream it, it's a sign you have to go for it.
There are many dreams in this world; it's not a coincidence that you only dream about one thing.
10. When life gets hard; don't wish it to be easier, decide to be stronger.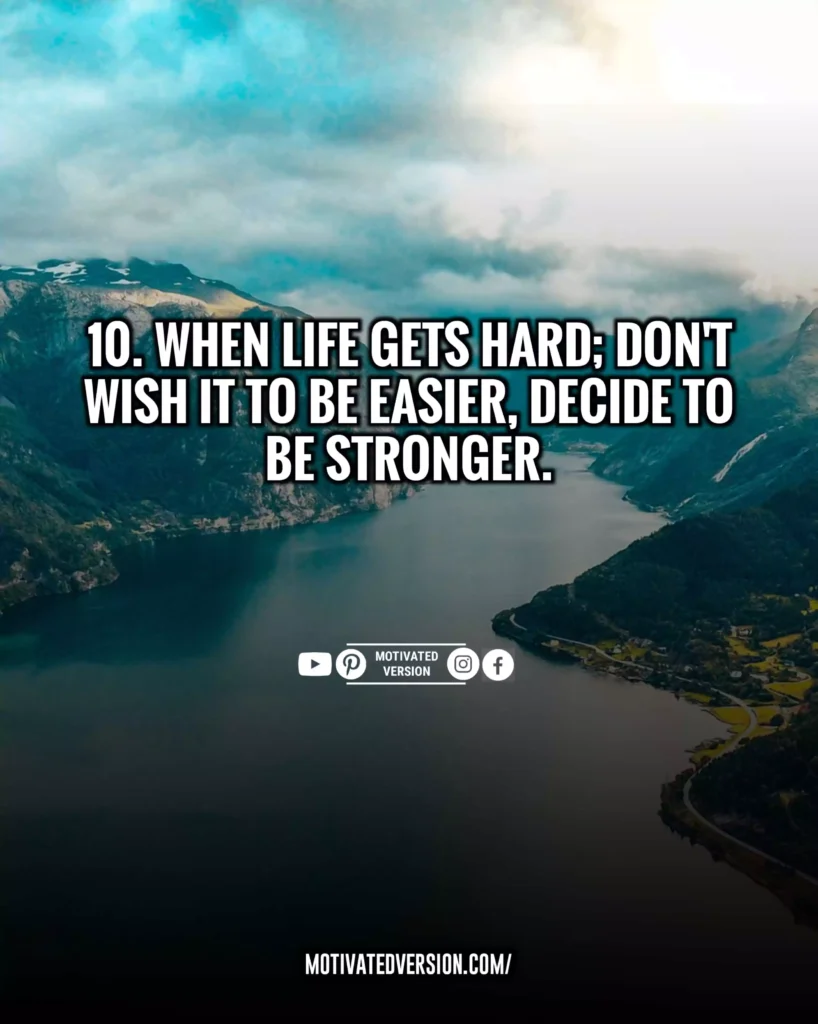 Life is good when you realize that you can overcome the hardships of life and it becomes meaningful when you overcome these hard days.