10 Brilliant Quotes That Will Strengthen Your Mental Resilience
Life has its way of testing our inner strength, pushing us to face challenges that may sometimes seem insurmountable.
We all find ourselves in situations where doubts creep in, and the weight of adversity threatens to overwhelm us.
It's essential to remember that these moments don't define our weaknesses
but instead offer opportunities for growth and resilience.
In this article, we invite you on a journey of self-discovery and empowerment,
not to dwell on perceived vulnerabilities but to celebrate the immense potential within each of us.
We've gathered 10 brilliant quotes that encapsulate the essence of mental resilience,
shedding light on the strength that resides deep within our hearts and minds.
As you read through these inspirational words, we hope to provide you with a source of
motivation, wisdom, and encouragement that will resonate with your experiences, aspirations, and dreams.
Together, we will explore the profound wisdom of these quotes and
discover how they can fortify your mental resilience,
helping you navigate life's twists and turns with unwavering strength and grace.
Here are the 10 Brilliant Quotes That Will Strengthen Your Mental Resilience:
1. If somebody doesn't like you check your bank account and see if it makes a difference.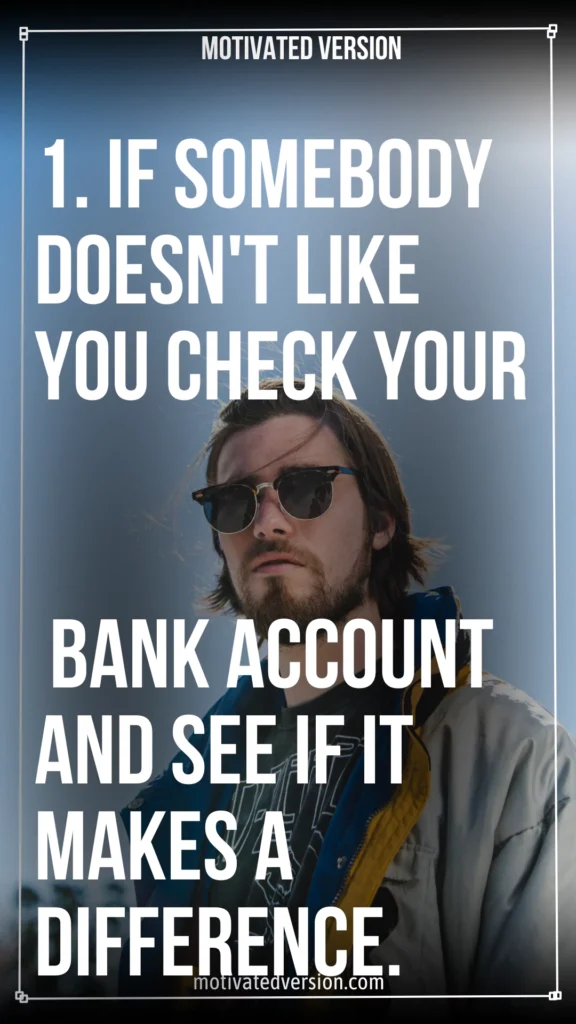 We often burden ourselves with concerns about others' opinions of us.
Here's a gentle reminder: None of what people think about you covers your expenses. Liberate yourself.
2. My main focus right now is leveling up. The next few months are all gas no brakes.
You've spent a considerable amount of time on trivial matters. It's now time to enroll in that course, launch that business, dive into that book, or hit the gym.
At a certain point in life, you realize that you squandered valuable time when you could have been elevating yourself and exploring your full potential.
3. If you're buying a car stay quiet. If you're taking a course stay quiet. If you're going on vacation stay quiet. The reason why most of our dreams don't come true is because we tell the wrong people at the wrong time.
Remarkable achievements often develop quietly, a truth we sometimes overlook.
Lions don't hunt with clamor, and successful businesses don't broadcast their long-term strategies.
Learn to plan, work, and improve in silence. Your success will make the noise.
4. Stop wishing things were better, and be better, do better, and move better.
We are not always in the perfect situation, but wishing things were better changes nothing.
5. A WISE MAN SAID: "Don't be afraid to start over again. This time, you're not starting from scratch, you're starting from experience."

I believe that we often overlook the lessons failure can teach us.
When we've experienced failure, we gain valuable insights into what's right and what's not.
However, we frequently allow failure to demotivate us, preventing us from embarking on a fresh start.
6. Muhammad Ali once said: "People run in packs because they don't feel safe alone. I run alone because I don't feel safe in packs."
When you journey alone, you understand that you can place complete trust and reliance on yourself.
In a crowd, individuals can transform or betray you unexpectedly.
7. Dirty water has never stopped a plant from growing. Don't let negative words stunt your progress.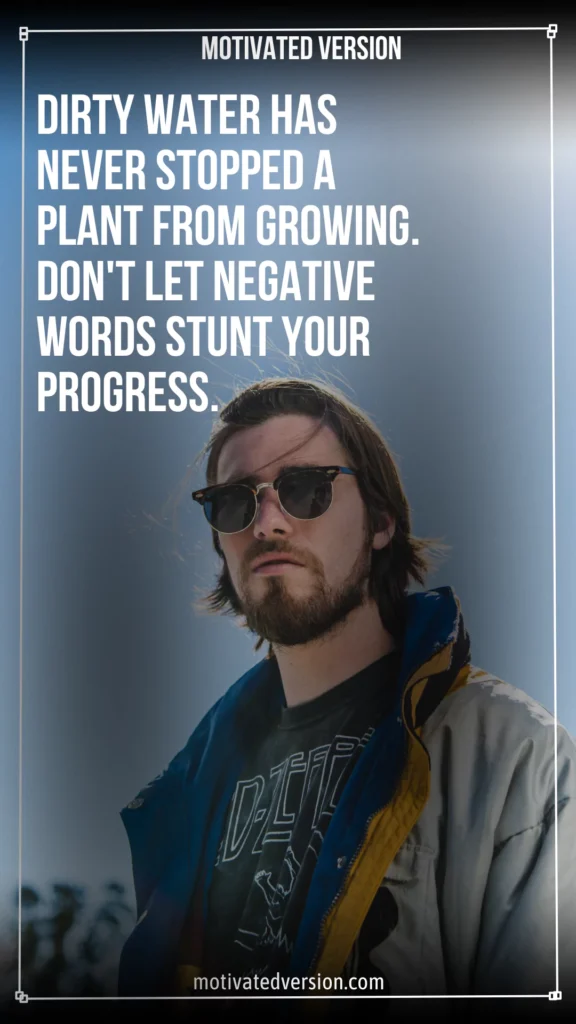 Regardless of how hurtful people's words may become, remember that they have no impact on your progress.
Their influence only extends as far as you permit it within your mind. Never grant it that power.
8. Switch your mentality from 'I'm broken and helpless' to 'I'm growing and healing' and watch how fast your life changes, for the better.
When you shift your mindset, you transform it into a growth state.
It begins to perceive possibilities and avenues for enhancement, ultimately leading to greater strength and resilience.
9. Before you argue with someone, ask yourself, is that person even mentally mature enough to grasp the concept of different perspectives? Because if not, there's no point.
Not every argument holds significance; some merely squander time and deplete energy.
Not everything warrants your time and attention.
10. Better to jump and make a mistake than to sit there too frightened to make a move.