10 Powerful & Deep Quotes with Rare Life Lessons I Wish I Read Earlier
For some people, quotes are just quotes. We all experience different things throughout our lives.
Some may not love quotes.
But for some people who are always misunderstood and those who seek meaning and purpose in life.
Quotes world is where:
They heal, learn, and find strength. They learn hidden lessons of life.
They find words that explain how they feel.
They see the world through different lenses.
I do love quotes and they helped me a lot in my dark days.
I found strength and confidence in myself by following meaningful advice and tips.
Quotes are great and it's one of the things that should be kept alive forever.
Regardless of the time, a meaningful quote holds a lesson that will help generations.
We all seek a better life. A life with happy days, cool friends, clear purpose, real feelings, and positive vibes.
But we don't live this life easily, nor are our wishes granted easily. Life has its sunny and dark sides.
You will never live a good life without experiencing bad days.
Bad days increase our sense of gratitude.
If you are going through tough days, I hope you get enough strength to pull yourself out of it.
Remember the good things in your life (your family, your friends, and your gifts).
Here are the 10 Powerful and deep Quotes with Rare Life Lessons I Wish I Read Earlier:
1. No matter how good or bad your life is, wake up each morning and be thankful you still have one.
Make gratitude a habit and see how your worldview changes.
Having a good day shouldn't be a reason for you to be grateful.
You should be grateful regardless of how bad or good your day is.
You are healthy, your family loves you, you are blessed with a nice kid, and you are alive.
Now go out and figure out the solution to your problem.
2. Self-control is strength. Calmness is mastery. You have to get to a point where your mood doesn't shift based on the insignificant actions of someone else. Don't allow others to control the direction of your life. Don't allow your emotions to overpower your intelligence.
Here's a powerful reminder to give your focus to the things you can control.
Learn how to be calm when you are in a tough situation and use your mind instead of reacting.
Know what you should ignore and what you should give your attention to.
Your strength lies within you, not in the outside world.
The outside world will guide you, but you will have to walk alone. Don't let people decide how you act.
3. If the plan doesn't work, change the plan but never the goal.
If the plan you had last year didn't work, adjust your perception and modify the plan.
Here's a reminder in 2023 to adjust your plan and stay true to your vision.
Your goals should align with your vision, and your vision should be fixed.
You can't change your goals just because someone thinks you should do it.
Don't change your goals to match your plan; modify your plan.
4. Keep your circle small but your vision huge.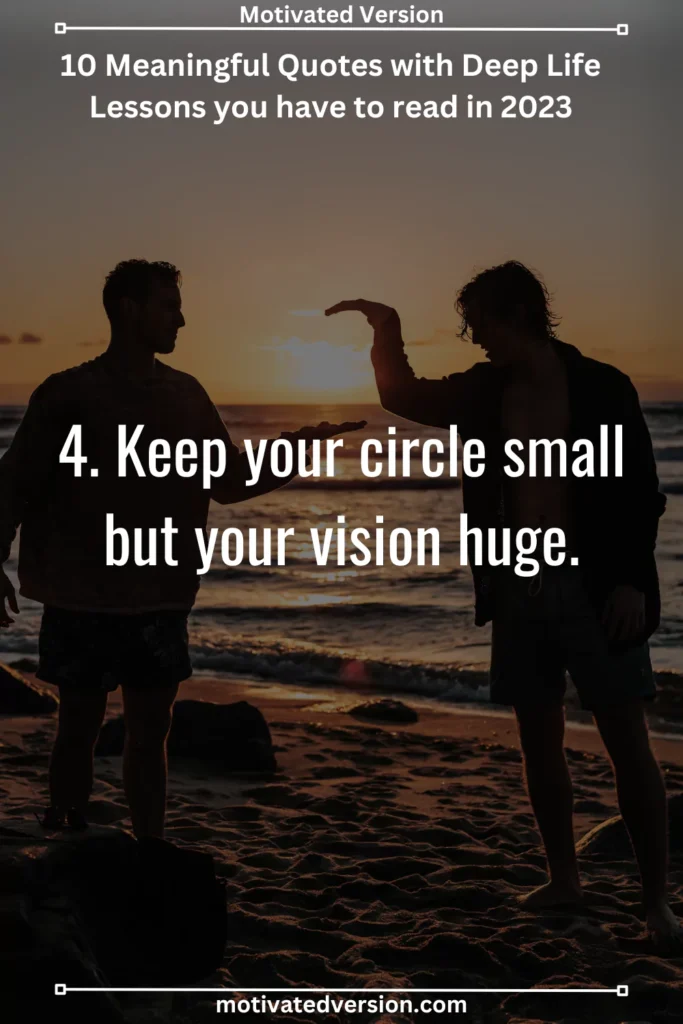 There's power in loyalty and quality circles. You don't need a big circle to get further.
A small powerful circle with a fixed vision is what you need. Quality beats quantity in many things.
5. Be a player in life who runs for goals, not a referee who looks for faults.
We are not perfect. Everyone makes a mistake. If you spend all your time judging others for their mistakes, you find no time to acknowledge yours.
Look for mistakes and problems to find antidotes and improve yourself, but don't give it all your time. Focus on your goals and achieve them.
6. Your degree is just a piece of paper, your education is seen in your behavior.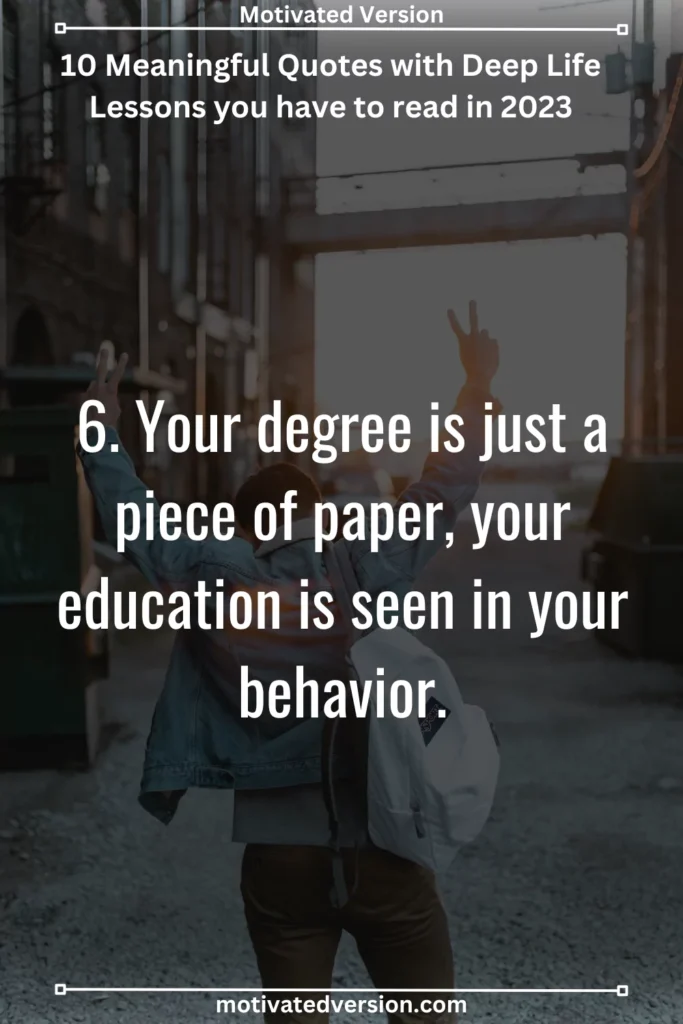 Decades and centuries ago, educated people were highly respected.
People think they are wise, smart, and have better behaviors because they know many things.
But now, we know educated people who are criminals and treat people badly. While people with little education act gently.
7. Hang out with those you have a common future with, not a common past.
No matter how dark your past is, here's a reminder that you no longer live there.
We emerge from our past and create our future in the present. Hang out with people who have the same goals and vision as you have; you will get further in life.
8. The greatest pleasure in life is doing what people say you can not do.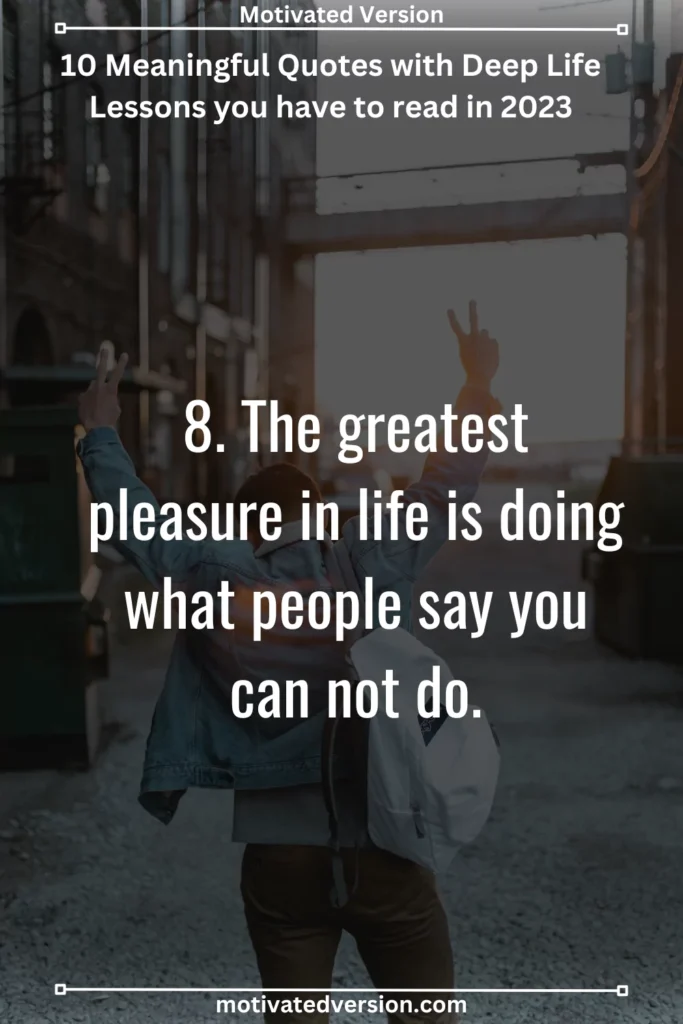 It takes courage to stand up for what you believe in. Even if people say you can't do it.
People project their potential on you. If a person can't do something, he/she tells you, you can't do it.
The greater the resistance, the greater the pleasure. Keep on pushing.
9. Promise yourself to be so strong that nothing can disturb your peace of mind.
Being at peace with yourself is important. The world doesn't care about it as much as you do.
It's your responsibility to protect it.
10. God removes people from your life because He heard conversations you didn't hear.