10 brutally honest quotes that speak the truth
Honest quotes are my favorite because they speak the truth about people that society covers most of the time.
Though it's loved by many, you rarely meet honest people because they are real and they don't love drama.
Honesty time: Skip to scroll down if you don't like the explanation mixed with a story.
The best thing about being honest is that you will be certain of the fact that you are surrounded by real people.
We go through a lot of things in life, from dealing with broken toys as kids to dealing with overthinking, fake friends, and heartbreak as teens, to dealing with family issues and focusing on your kids as parents, to…
Kindness and honesty are the two most important virtues and play a great role when dealing with others.
The more honest you are with yourself, the easier your life becomes.
The more honest you are with others, [your circle will be smaller], the less drama you deal with.
These quotes will help everyone who wants to become more honest in life.
The more of these quotes you read, the more brutally honest you become in some areas of your life.
Here are the 10 brutally honest quotes that speak the truth:
1. One week they love me; one week they hate me; both weeks I get paid.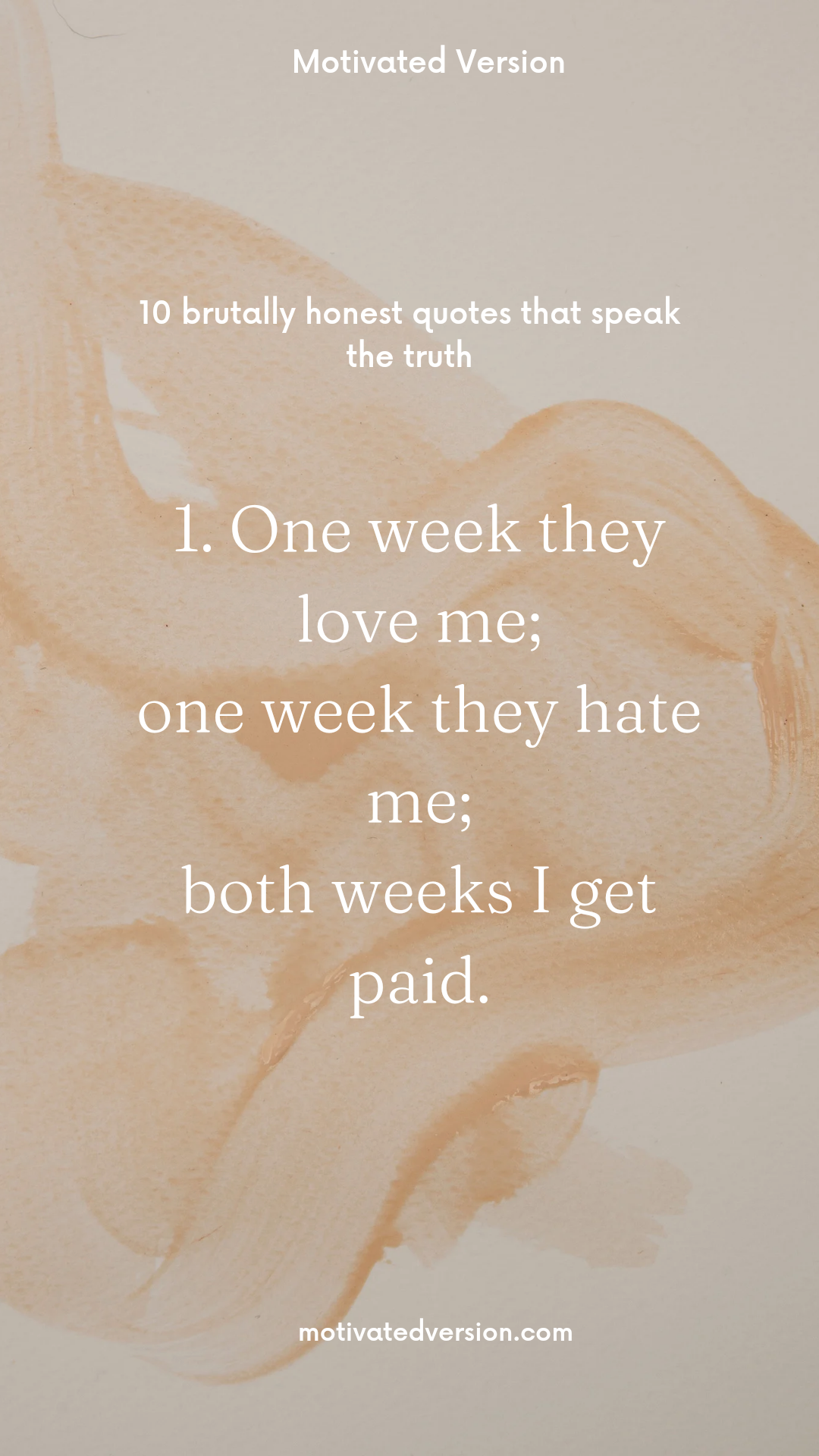 It takes every person a little longer before they realize that not everyone cares about them.
Go to work, get your work done, get your money in the end, then get back to your family.
Your family does care for you. Regardless of how people at your workplace hate you or love you, make sure you are getting paid.
As long as you are getting paid, you don't have to care if they love you or hate you.
This is one of my favorite honest quotes among all these brutally honest quotes.
2. No matter the situation, never let your emotions overpower your intelligence.
Emotional decisions lead to a lot of problems in the future. While you might be fine with it, it's not the best decision in the long run and you might end up regretting it.
There's a high chance you read this honest quote somewhere; just know that I'm here reminding you again. When it comes to making decisions, use your intelligence.
3. Your biggest fan is a stranger. Your biggest hater is someone you know.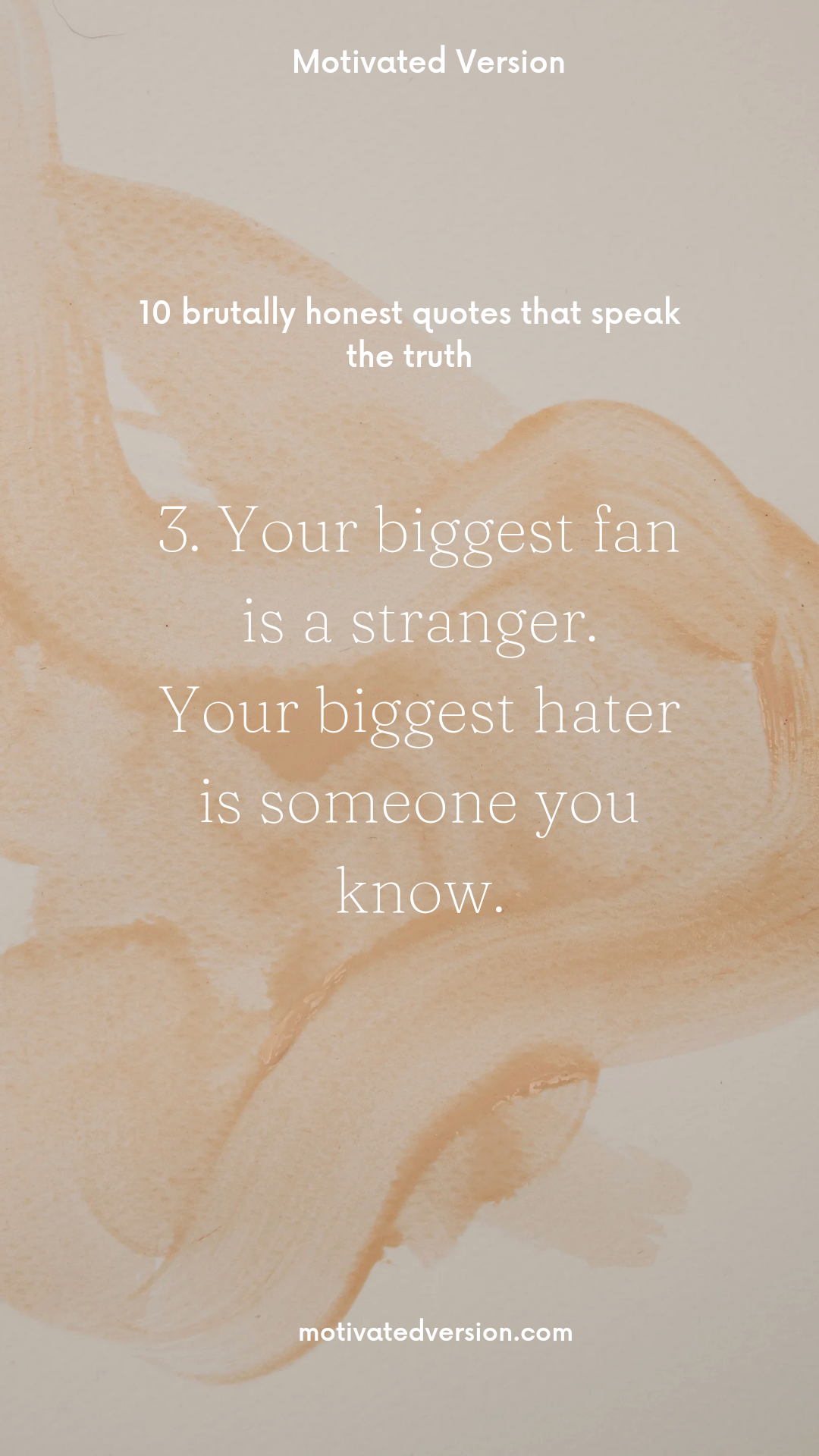 This quote is said by Heath Ledger and it's one of the most real quotes I've read. It's crazy how one of the best people you will meet in your life is a stranger.
While the person filled with bullsh*t hatred is always a person you know and sometimes you helped him/her.
4. You only look crazy until it works. Then you're a genius.
It's one of the facts everyone who wants to reach higher success in life must accept.
You will be crazy to many people who don't understand what you are up to, but when you make it. You are a genius.
Now everyone will start talking about your story and how they were a part of it.
Hiding all the parts where they looked at you as a crazy person. But yeah, this is life and there are a lot of people like this in it.
5. Sometimes you need to stop saying sorry and start saying "Yes, I did so what?"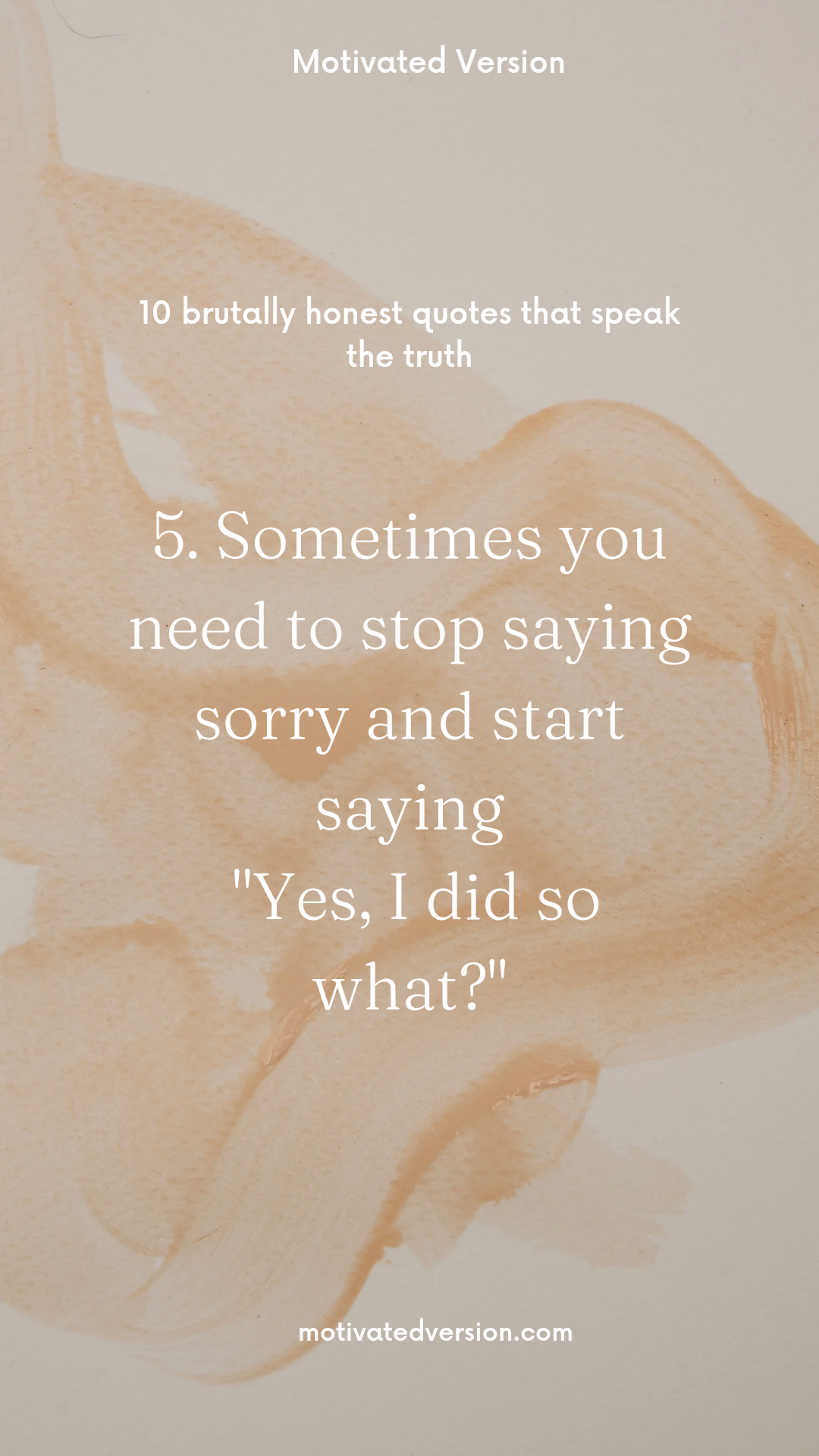 That's the honesty I was talking about. Some responses just have to be straightforward.
No apology, no excuse, and no explanation, just a confirmation.
6. You will never make it if you care about what everyone thinks.
Accept it or don't, but you will go crazy trying to please everyone you know. More importantly, when it comes to going far in life.
You have to know who to listen to well (those who have what you want).
7. If lying was a job, some people would be billionaires.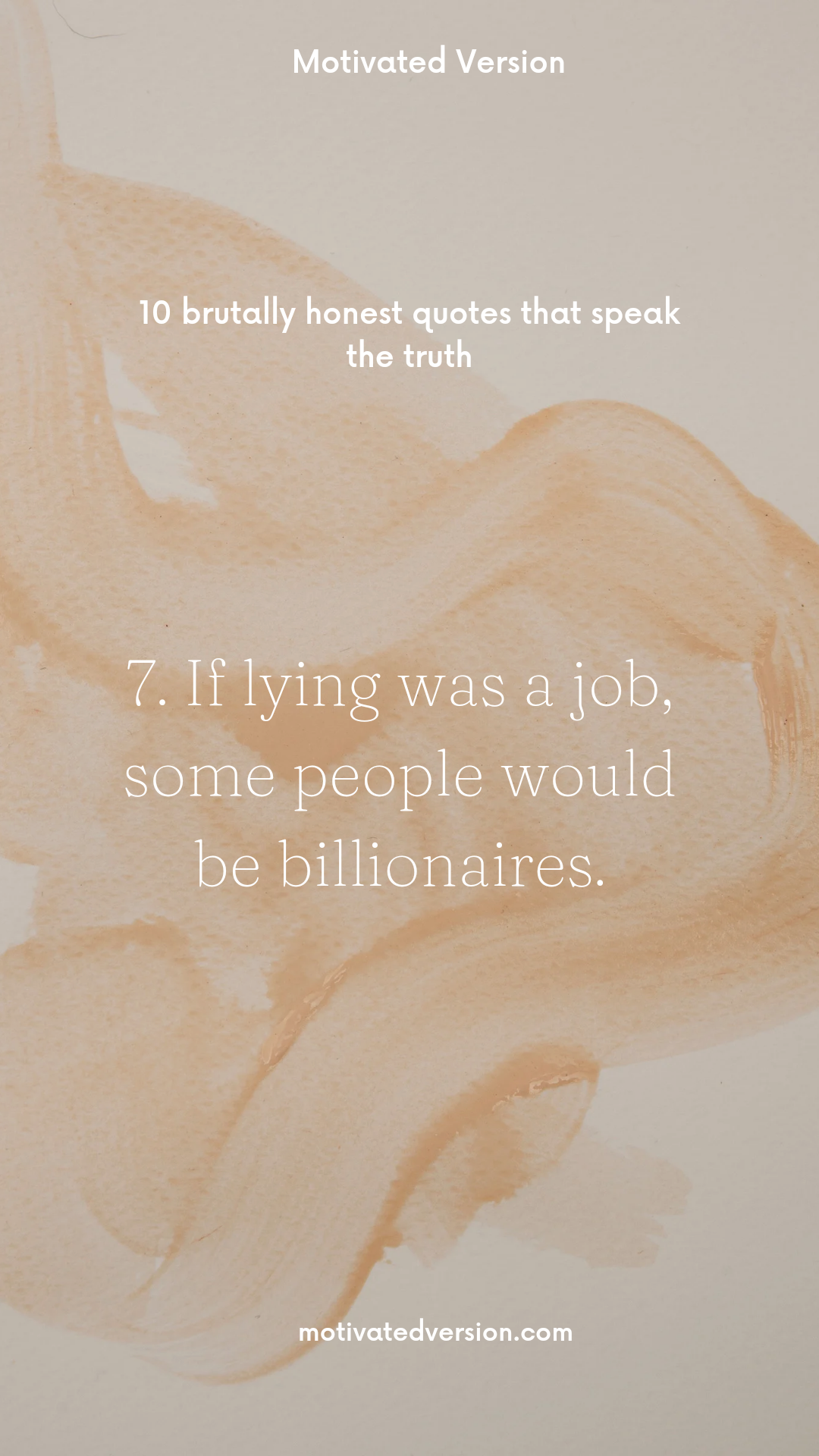 Some people have mastered the art of lying to the point you will think they went to a college.
Also, read: 10 Rational Quotes that Will Strengthen Your Judgements & Decision Making in Life
8. If everybody likes you, you have a serious problem.
The simple explanation for this honest quote is that a person who's liked by everyone is too nice.
Being too nice is really a big problem. Often nice people are too giving and always say yes to anything being said to them or a request.
Being too nice will get you liked by most people, but your personal life will be a mess, which is the most important thing.
Also, read: 10 Deep Quotes that will Boost your Social Intelligence and Wisdom
WEARING YOUR IDENTITY STARTS HERE
9. Never argue with an idiot. They will drag you down to their level and beat you with experience.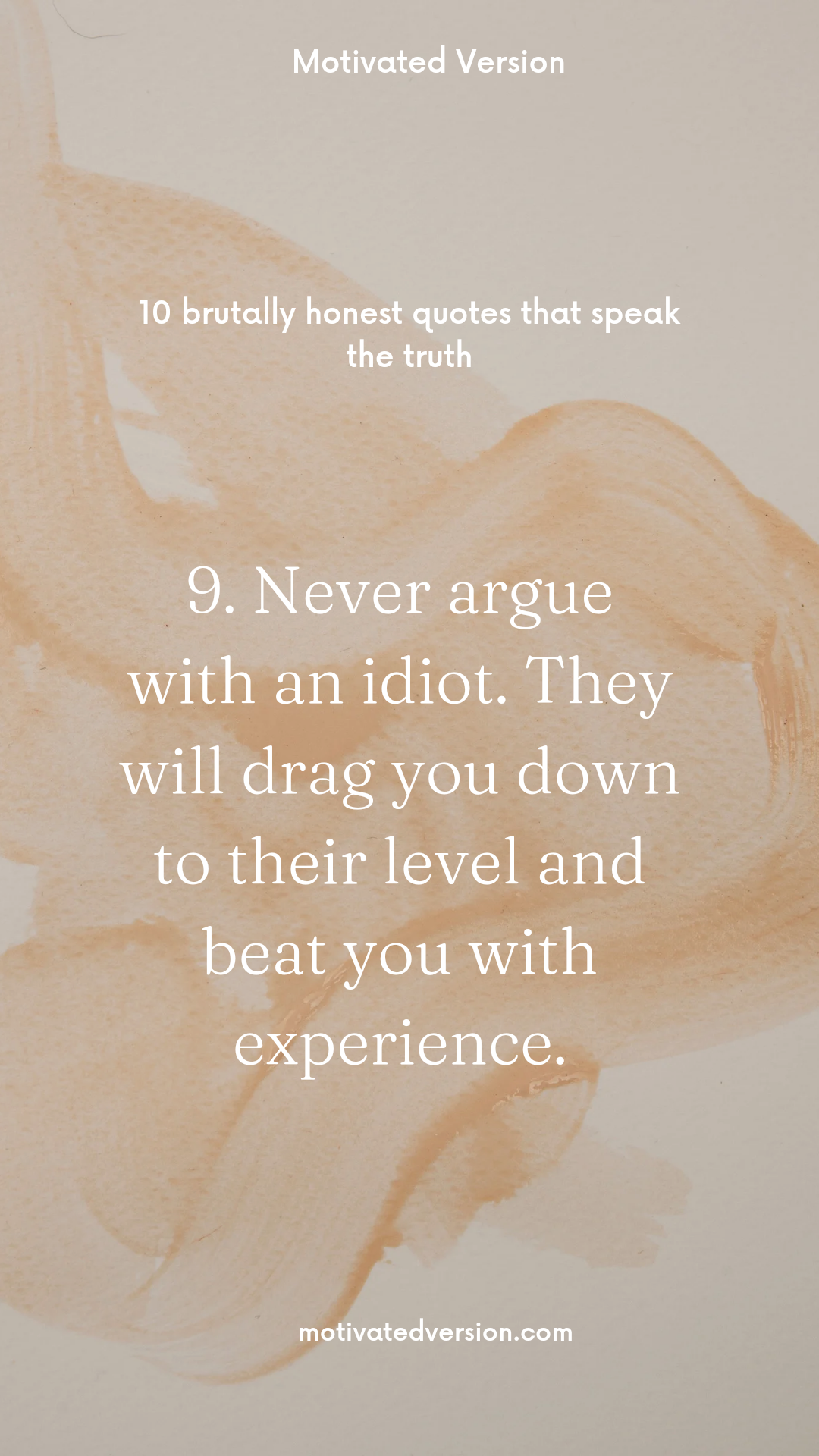 Said by one of the most brilliant minds, Mark Twain. Idiots are idiots and will remain idiots.
But don't underestimate them when it comes to an idiotic argument.
Also, read: 10 Logical Quotes that will improve your Critical Thinking
10. When it's over, leave. Don't continue watering a dead flower.
When a person doesn't like you, let go. When the relationship is dead, leave. Don't ever lie to yourself to comfort yourself.
Get your Guide to achieving peace of mind and Calmness and discover 99+ Unique Thoughts from the Finest Minds
DISCOVER