10 Realistic Quotes about Success with Powerful Life Advice I Wish I read Earlier
In the pursuit of greatness and ambition, the path to success often appears as a challenging and winding road,
filled with moments of triumph and countless lessons learned.
It's a journey that many of us embark upon with fervor, only to discover that success is not merely a coincidence,
but a carefully crafted tapestry of dedication, resilience, and wisdom.
As we look back on our own journeys, we often find ourselves wishing that we had stumbled upon the right guidance earlier.
There's a yearning for the pearls of wisdom that could have made the climb a bit less arduous and the goals a bit more attainable.
These quotes are not mere words on a page; they are the distilled experiences of those who have reached the pinnacles of success.
They offer a blueprint for navigating the complexities of ambition and greatness.
These quotes are not just a reflection of our past, but a beacon for our future,
guiding us toward a life where ambition is met with accomplishment, and where dreams become reality.
This is not just advice; it's the key to unlocking your potential and securing a future filled with success and fulfillment.
Here are the 10 Realistic Quotes about Success with Powerful Life Advice I Wish I read Earlier:
1. Every successful person has a painful story. Every painful story has a successful ending. Accept the pain and get ready for success.
If you are going through a painful time, don't be sad. You are on the road to success.
You may be on the painful part of your story, but that's not the end of the story.
Accept the pain you are going through because it's one part of a big story. Your story is not over until you succeed.
2. Success usually comes to those who are busy looking for it.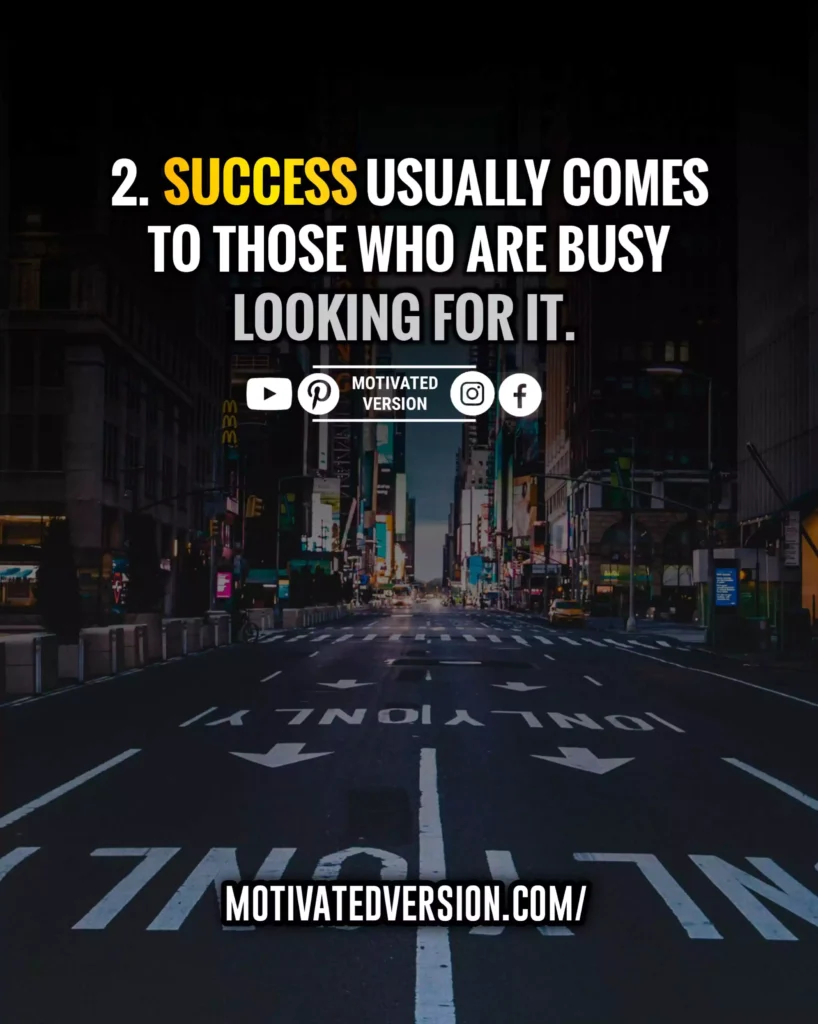 If you want something in life, you have to get up and search for it. If you are working for success, you will get it.
Success will come to you if you are busy looking for ways to get it.
3. Success isn't overnight. It's when every day you get a little better than the day before.
Said by Dwayne Johnson. From a well-known, loved, and appreciated celebrity, there's a precious lesson in this quote.
If you are seeing improvement every day, you can tell yourself you are about to become successful.
These small improvements will make you successful.
4. If you want to be successful, prepare to be doubted and tested.
Watch the success stories of highly successful people and you will learn that they were tested by life situations and doubted by many people.
Even your close friends might doubt what you say but don't get discouraged. It's only one part of the puzzle.
Believe in yourself in such a way that you don't care if someone believes in you. Your goals are yours.
It's no one's job to believe in it besides you. Take full responsibility for your life and keep on going.
5. Success is walking from failure to failure with no loss of enthusiasm.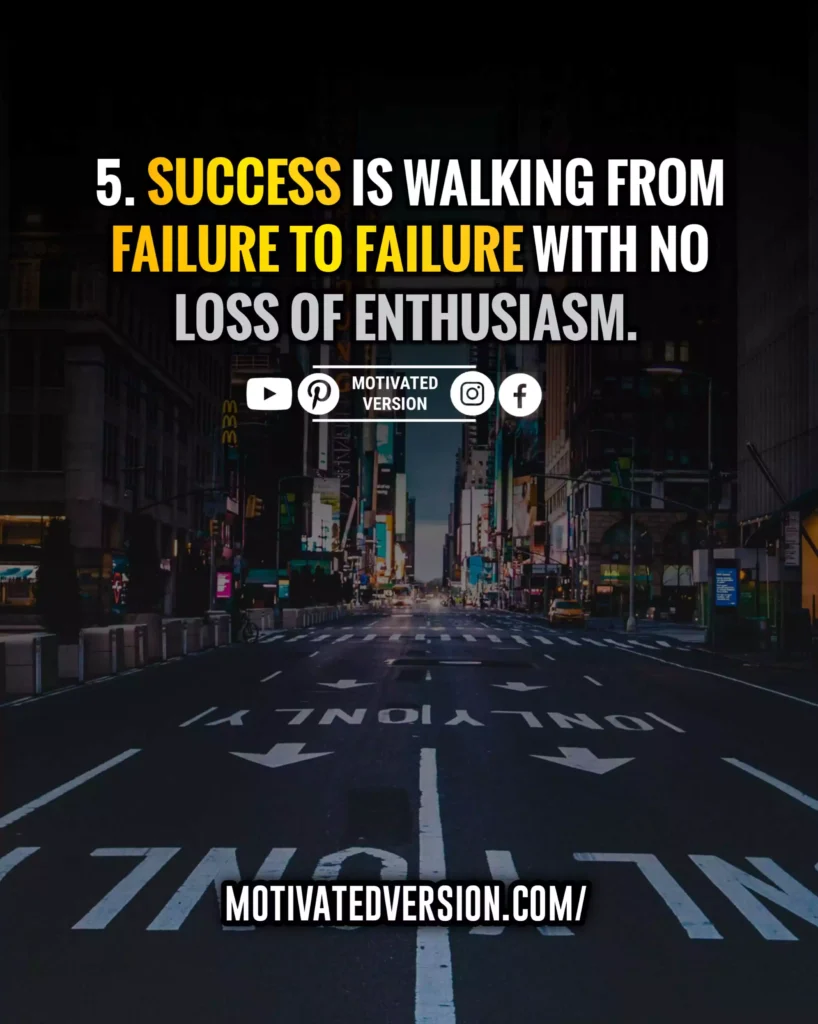 Some people think failure is the opposite of success, but that's wrong.
Failure is a part of success. You have to go through some failures to reach success.
Don't lose your enthusiasm and keep it. It will take you toward success.
6. Your success is not going to be easy, but trust me you will love the result.
Everyone who succeeded knows the feeling of success. It's beautiful and can't be described with a single word.
This feeling might be different for each one of us, but it's something worth going for.
When all your hard work and sleepless nights pay off, your mindset levels up, and your confidence will increase.
7. Early success is a scum. Great things take time.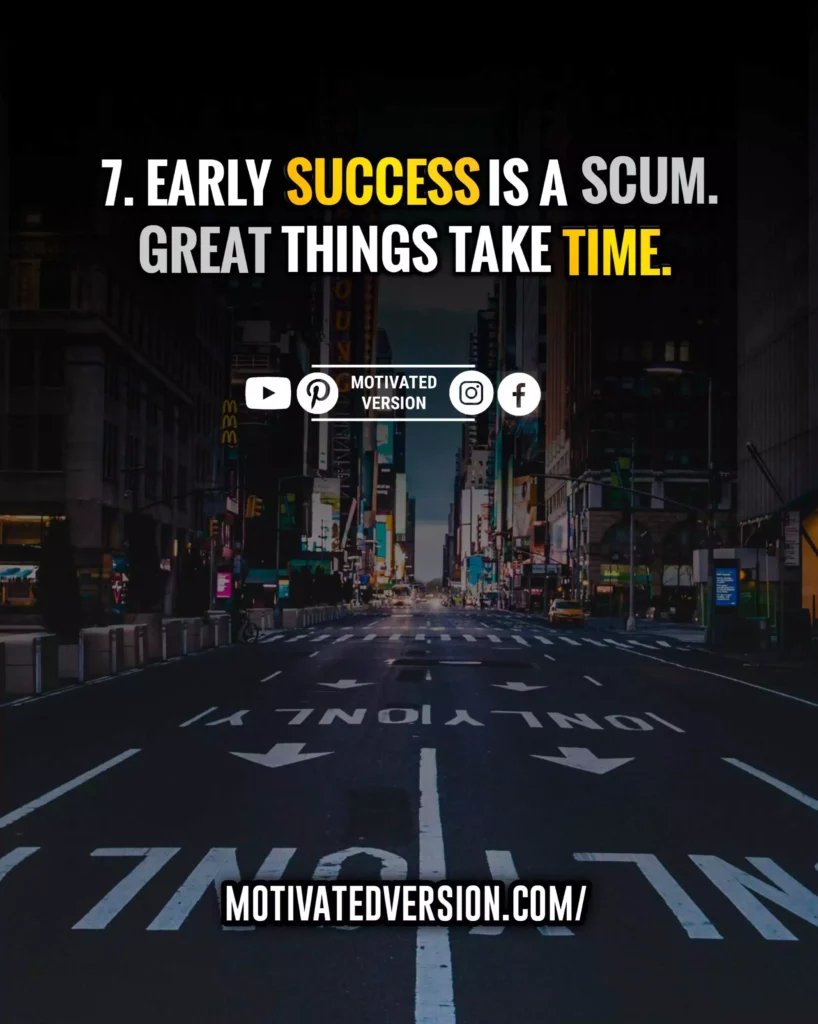 Success has no shortcuts, and all the shortcuts lead to nothing good. In the end, it will be exposed.
If you are taking a long time, remember this strong motivational quote for success.
Great things take time. Stay cool and keep working on your goals. Don't let minor failures distract you from your goals.
8. Without struggle, success has no meaning.
The bad days give value to the good days. Struggle, pain, and failure give value to success.
There's no other way, you have to go through all these things. Only if you want to lie to yourself to follow scummy ways.
9. Always remember that your present situation is not your final destination. The best is yet to come.
Great days with cheerful moments are waiting for you. Don't get discouraged; the best is yet to come.
10. The road to success and the road to failure are almost the same.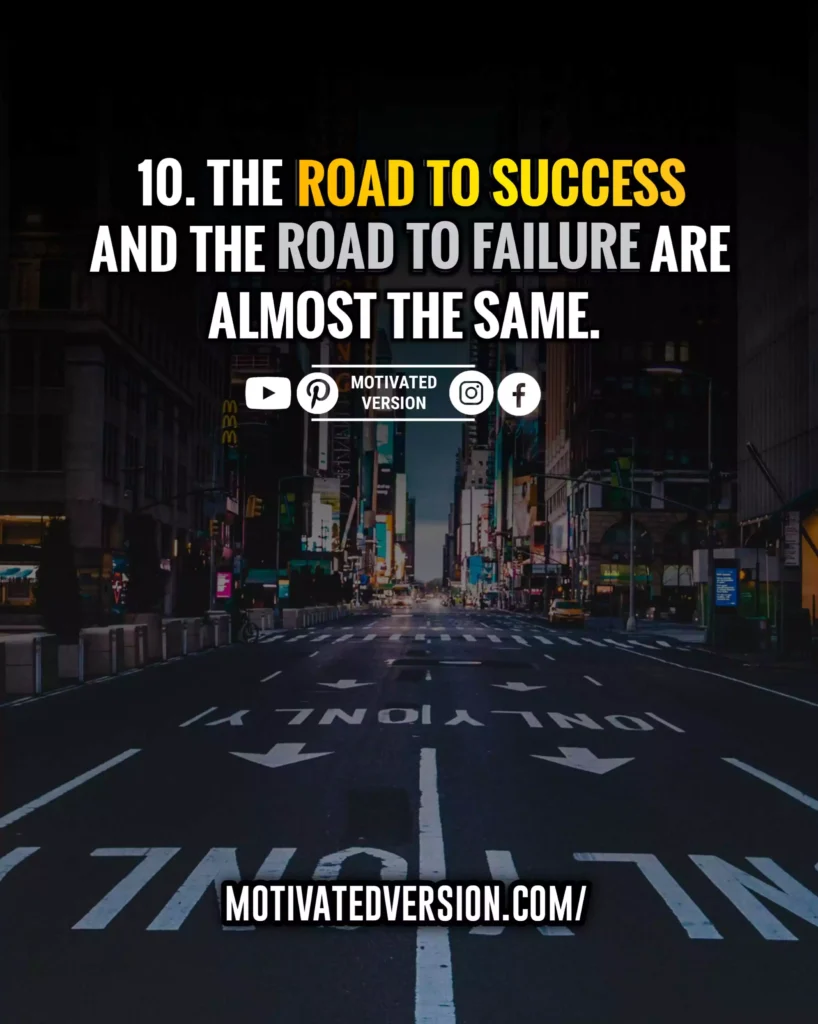 Failure is necessary for success. You build a strong character and mindset that will lead you to success through failure.