10 Powerful Quotes about Success with Lessons Worth Billions
In the relentless pursuit of our dreams and aspirations,
we often find ourselves standing at the crossroads of uncertainty and determination.
It's a journey marked by both triumphs and setbacks, where the path to success can sometimes seem elusive.
Yet, history has shown us that amid the challenges, there are voices of wisdom that resonate.
Offering timeless guidance and profound insights into the essence of achievement.
I draw inspiration from the experiences and words of highly successful and renowned entrepreneurs
who have walked the path we aspire to tread.
These individuals have not only amassed fortunes
but have left an indelible mark on the world, shaping industries, and changing lives.
So, let us embark on this expedition into the minds of the greats,
and may the lessons learned from their words become the fuel
that propels you forward on your own remarkable journey to success.
Here are the 10 Powerful Quotes about Success with Lessons Worth Billions:
1. Success is the greatest middle finger of all time.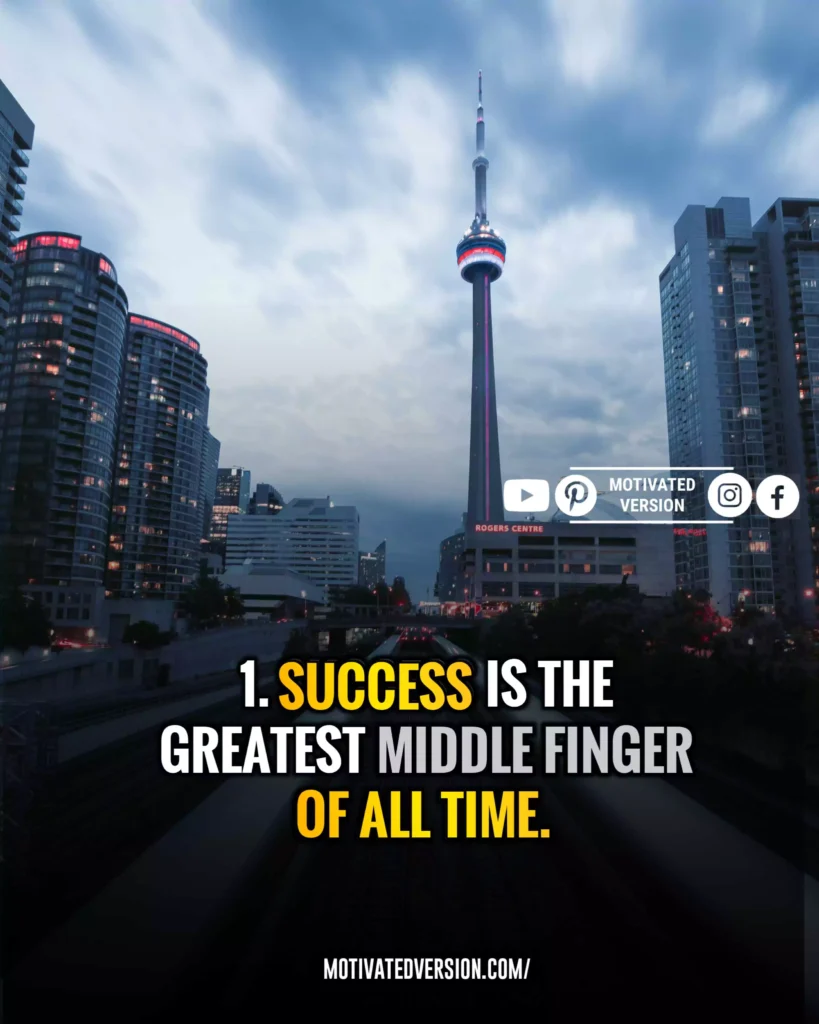 It's not something you can deny. Success can have the loudest reply.
A person who never talks about his success and keeps on working until he succeeds is always the strongest and the loudest person when he talks.
Let your success be your reply to those who don't believe in you.
2. Try not to become a man of success, but rather try to become a man of value.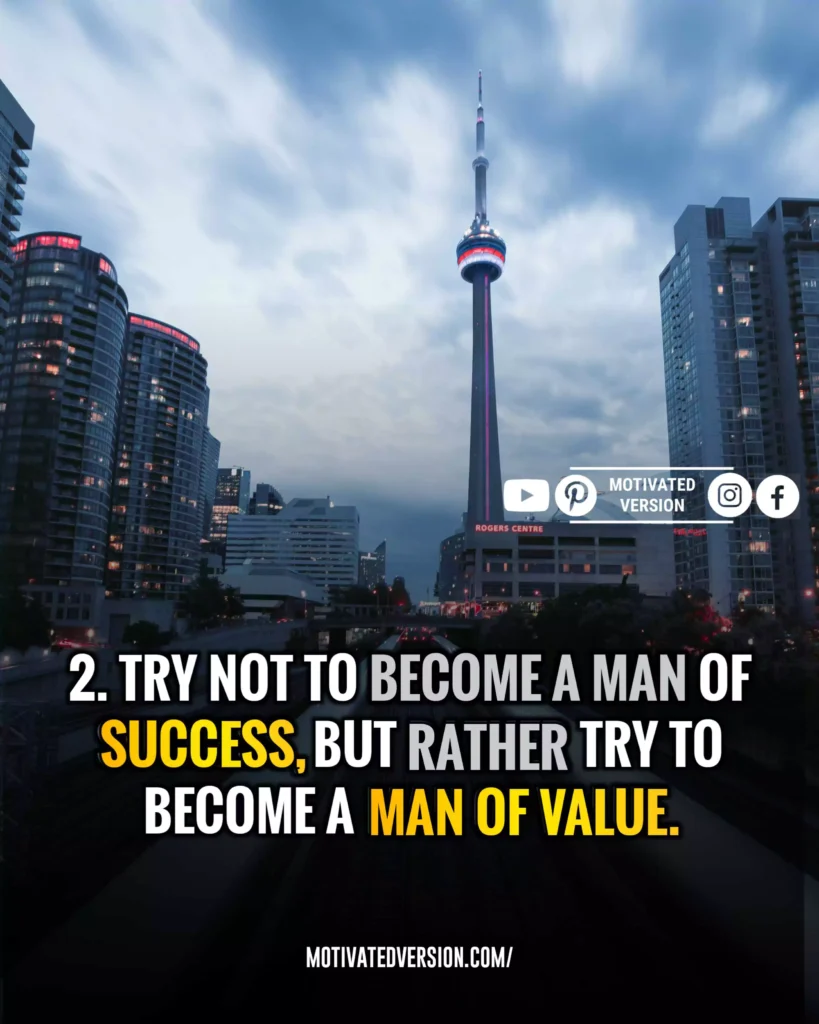 You succeed when your business or idea solves a certain problem or adds value to people's lives.
When you strive for value, people appreciate you and value you. A man of value is a successful person.
3. Successful people believe hard work is the key to success while unsuccessful people think it's just luck.
Take things logically and believe in hard work.
Some people will see a person who works so hard for months and after that succeeds as "Lucky".
It always confuses me that people don't see the effort a person puts in and the struggle they go through.
Hard and smart work has everything to do with success. Without both, there's no success.
4. Almost every successful person begins with two beliefs: the future can be better than the present, and I have the power to make it so.
The business you are working on will change many people's lives.
The career you desire will improve the lives of people in your society.
The invention you are working on will make the world a better place.
But all of this won't happen until you succeed. You are the only person who has the power to make it happen.
5. There are no secrets to success. It is the result of preparation, hard work, and learning from failure.
Many people need a shortcut for success, but there's no. The long way is the only way to great success.
It includes preparation, hard work, and learning from failure. 
All these things are essential for success.
6. Failure is not the opposite of success; it's part of success.
Failure will add something to your life that success won't.
Failure will make you an experienced person and we all know how important experience is.
A person with experience can beat a person who has knowledge
because he knows things practically while the person with knowledge knows things theoretically.
7. Ambition is the first step to success. The second step is action.
Without action, all your ambitions and dreams will stay as they are.
If you stay in your comfort zone, nothing will happen. Your success depends on you and not on anyone.
8. Success isn't always about greatness. It's about consistency. Consistent hard work leads to success. Greatness will come.
Someone will work for 8 months without getting any results, then in the ninth month succeed.
Consistency and determination took him there.
9. Successful people are not gifted; they just Work Hard, and then Succeed on Purpose.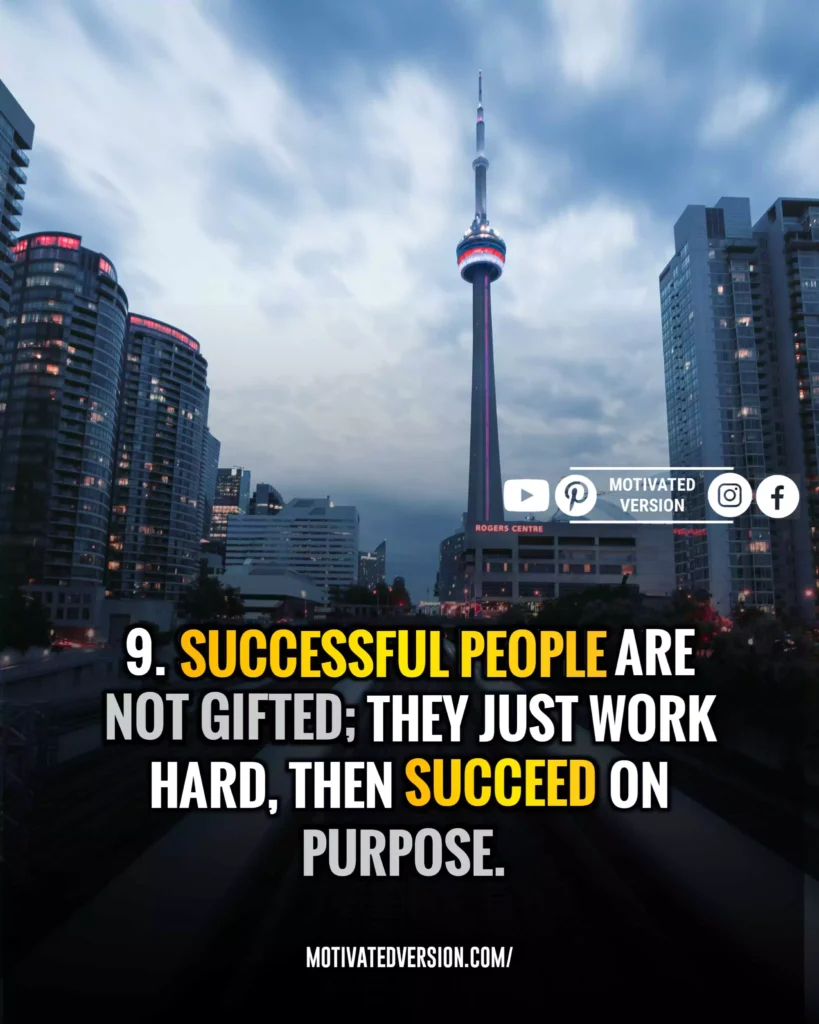 Everyone has a gift, but when it comes to success hard work is necessary.
But hard work is not a gift.
Put a person in a certain situation and give him one way to get out of that situation (hard work), then see how hard they work.
10. Some people dream of success while others wake up and work hard at it.
Success is not a coincidence or it comes by luck; hard work plays a great role.